How to Apply for Citizenship in New York?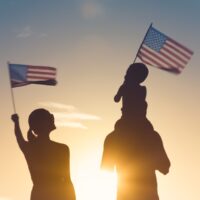 There are several different pathways to obtaining United States citizenship in New York. Whether you are a noncitizen already in the country working with a temporary visa, a lawful permanent resident, or are located outside the country and hoping to enter, there is a process for becoming a citizen. The procedure can be difficult and complex, so it is important to have a detail-oriented and experienced immigration lawyer on your side throughout the process. Read on to learn how to obtain citizenship in New York, and call a seasoned New York immigration lawyer for help with any green card, citizenship, visa, or other immigration status issues.
Applying for Citizenship by Naturalization
There are two general manners in which to obtain citizenship: birthright and naturalization. People born within the country are generally able to get automatic citizenship, although there may be a few extra steps if the child is born to American parents outside the country. Folks born outside the country to noncitizen parents, on the other hand, must go through the naturalization process.
The first step in obtaining citizenship is to become a lawful permanent resident (LPR or "green card" status). We previously discussed how to go about getting your green card in New York, including how to do so through your employer or via the asylum process. After you obtain LPR status, and after you have been a resident for a sufficient period (five years for most applicants, three years for spouses of citizens, and shorter requirements for people who serve in the military), you can begin the naturalization process.
Assuming you have LPR status and satisfy the residency requirements, you will need to apply for naturalization at a nearby U.S. Citizenship and Immigration Services (USCIS) facility. Your application should include the following materials:
Form N-400, the Application for Naturalization
A copy of Form I-551 (your green card)
Two passport-sized photos
Payment for the $725 filing fees ($640 filing fee plus $85 for the biometric scan)
Additional supporting documentation
The biometric scan fee can be waived for applicants aged over 75, and the fees are entirely waived for applicants who have served in the military. Low-income applicants may be eligible for a fee waiver as well.
After you file your application, USCIS will schedule you an appointment to be fingerprinted. The agency may request additional documentation to support your application (such as proof of residency, criminal records, employment-related documents, etc.). USCIS will then schedule an interview for you to answer questions about your application, and you will take the Naturalization Test. Once you pass the test, and assuming you meet all other requirements for citizenship, you will be naturalized as a U.S. citizen.
If you are seeking citizenship or permanent residence status for yourself or a loved one, contact the dedicated and passionate Queens immigration lawyers at Gladstein & Messinger at 718-793-7800 or toll-free at 800-339-0535.