What's the Process of Getting a Green Card in New York?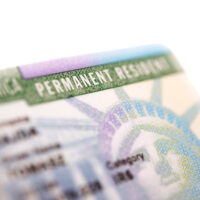 If you are in the United States on a temporary visa or as an undocumented immigrant, you could face the possibility of deportation.  Securing permanent residence status, often referred to as getting a "green card," can be a long, difficult, and often confusing process.  Below we explain how to get your green card in New York.  Contact a knowledgeable New York immigration lawyer to answer any questions about your visa or citizenship status.
Ways to get a green card
The green card process generally involves one of two methods:  1) adjustment of status, available to those already in the U.S. lawfully, and 2) consular processing, available to those who are applying for a green card while located outside the United States.  There are, additionally, a few alternate routes for getting your green card in New York City and elsewhere in the U.S.  Your options include:
Your employer sponsors you via labor certification

You are a person of extraordinary ability, in which case you can apply on your own behalf without a sponsor

You invest a significant amount financially in the United States (real estate, stocks, business, etc.)

You have a close family member with a specific status in the United States who can sponsor you

You can demonstrate eligibility for asylum or refugee status

Diversity visa lottery
Each of these routes requires a different, specific process and requires different parties to fill out specific forms.  Whichever route you believe might work for you, it is important to get the help of a seasoned New York immigration lawyer.  Your lawyer will help you build the strongest case for your permanent resident status and help you avoid any pitfalls that could delay the process or get you deported.
Family- or job-based green card petitions
Current U.S. citizens or green card holders can petition for a family member to get a green card.  The sponsor can only apply for certain close relatives, including spouses, unmarried children, married children over age 21, and parents or siblings over age 21.  People in the latter two categories must be sponsored by citizens, not other green card holders.
The sponsor must file a Form I-130 Petition for Alien Relative.  If the applicant is an immediate family member of the sponsor and the sponsor is a U.S. citizen, they can apply immediately for a visa.  If they are not an immediate family member of a citizen, they must get on a visa waiting list, which can take up to several years.  Priority for their application depends on their relationship to the sponsor and whether the sponsor is a citizen.
Applicants located within the U.S. will then apply for an adjustment of status and permanent residency, submit biometric information, and attend an interview at the appropriate Application Support Center and US Citizenship and Immigration Services (USCIS) office.  The applicant must then wait for USCIS to make a decision.  Applicants outside the U.S. must rely on consular processing and wait outside the U.S. for their name to reach the top of the waitlist.  When it does, they will be notified and granted an interview.
Job-based applicants will go through a similar process except with an employer as a sponsor and by using Form I-140, Immigrant Petition for Alien Worker.  Other specific routes call for a more specialized process, such as demonstrating extraordinary ability or asylum eligibility.
Lottery-based method
The U.S. issues 50,000 immigrant visas each year through the Diversity Immigrant Visa program.  Only individuals from countries with low levels of immigration to the U.S. are available to apply for this program, which will then dole out visas on a lottery basis.  Winners of the lottery will either apply for adjustment of status (if located within the U.S.) or the consular process (if located outside the U.S.).
If you are seeking permanent residence status for yourself or a loved one, contact the compassionate and dedicated Queens immigration lawyers Gladstein & Messinger at 718-793-7800 or toll-free at 800-339-0535.