DHS Finalizes New Public Charge Rule for Immigration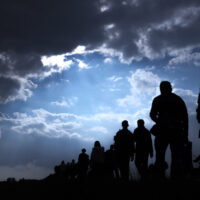 The federal administration has taken further steps toward curbing legal immigration with yet another heartless policy aimed at treating those who seek entry into the United States as lesser people.  Changes to the so-called "public charge" policies were recently published by the United States Citizenship and Immigration Services (USCIS), an arm of the Department of Homeland Security (DHS).  The new rule has the potential to affect thousands of applicants, applying to any application filed or postmarked on or after October 15, 2019, if the courts do not delay implementation.  Read on for details about the new DHS rule, and contact a compassionate New York immigration lawyer with any questions about your immigration status, visa, naturalization, or other immigration issues.
The public charge rule
Under existing law, immigrant and nonimmigrant visas can be denied for anyone "likely at any time to become a public charge."  Immigration officials rely on this law to deny a person's applications for lawful permanent residence or entry into the United States if they are likely to become a public charge. Immigration officials have, to this point, limited public charge designations to those who are likely to become "primarily dependent" on a designated list of state and federal aid programs such as Temporary Assistance for Needy Families (TANF) and Supplemental Security Income (SSI).  Previous administrations specified that they would not consider the use of Medicaid, the Children's Health Insurance Program (CHIP), or other non-cash programs in making public charge determinations.
The new rule significantly expands the definition of a public charge.  First, the new rule applies broadly to any "alien who receives one or more public benefits for more than 12 months in the aggregate within any 36-month period (such that, for instance, receipt of two benefits in one month counts as two months)."  This means that it applies to anyone who receives (or is likely to receive) any benefits from these aid programs, rather than just those who are likely to become "primarily dependent" on these programs.
The rule also expands the definition of public benefits to include programs previously excluded.  Public benefits now include federal, state, and local cash benefit programs for income maintenance as well as certain health, nutrition, and housing programs previously excluded, such as non-emergency Medicaid for non-pregnant adults, the Supplemental Nutrition Assistance Program (SNAP), and multiple housing programs.
The previous acceptance of federal or state aid is just one factor in evaluating whether someone is a public charge.  The new rule adds additional considerations for DHS to consider when evaluating the "totality of the circumstances" to determine if someone is "more likely than not at any time in the future" to become a public charge.  Factors such as being younger or older than the working-age, English proficiency, medical conditions and the availability of private health insurance, not being employed or being a primary caregiver, or having an income level below 125% of the federal poverty level will now increase the likelihood that DHS will find a person "inadmissible" based on potential to become a public charge.  Certain factors are now "heavily" weighted against immigrants, such as having received public benefits for more than 12 months within the 36 months before applying for admission or adjustment of status.  Having an income of at least 250% of the federal poverty level is considered heavily weighted in the applicant's favor.
The new rule affects individuals seeking to become lawful permanent residents ("green card" holders) and anyone seeking to immigrate to the U.S.  It will also affect many people already within the U.S. who seek to extend or adjust their non-immigrant status, such as extending a visa.  The rule applies to any new applications postmarked or filed after October 15, 2019; applications for adjustment of status that are already pending should not be affected. 
The rule is not meant to apply to asylum-seekers, although as we have discussed, the Trump administration is separately working to curb or eliminate asylum entirely.  The public charge rule also does not apply to lawful permanent residents seeking to become citizens, although permanent resident status is an important step towards citizenship that may now be unavailable for thousands of immigrants.
The new rule is being challenged in courts around the country, which may delay implementation.  Courts have already held multiple hearings in several of the lawsuits in the week leading up to the rule's effective date.  As of this writing, implementation of the rule has not yet been blocked or delayed.         
Get Help with Your Immigration Status from Experienced New York Immigration Lawyers
If you are seeking entry into the U.S. or an adjustment of citizenship status for yourself or a loved one, contact the dedicated and experienced Queens immigration lawyers at Gladstein & Messinger at 718-793-7800 or toll-free at 800-339-0535.