Federal Administration Now Rejects Asylum Claims Based on Persecution of Family Members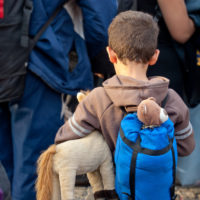 The Trump administration is continuing its efforts to limit the ability of asylum-seekers to enter the United States. The latest move comes courtesy of Attorney General William Barr, who recently issued a ruling preventing immigrants from seeking asylum due to threats against their family members. Find out more about the decision below, and contact a passionate New York immigration lawyer to answer any questions about asylum eligibility.
Asylum-seeker flees based on threats against family, attempted kidnapping, and is rejected
The AG's new directive was issued as part of an opinion reversing a decision by the Board of Immigration Appeals (BIA). A Mexican man, identified as L-E-A- in court documents, presented himself at the U.S. border seeking asylum after his family was threatened. He was the son of a Mexican grocer who refused to allow drug cartel dealers to use his store for business. The cartel then attempted to kidnap L-E-A-. After the attempted kidnapping, L-E-A- fled to the U.S. Historically, fear of endangerment has been a standard basis for a legally-recognizable claim for asylum.
Under current U.S. law, to seek asylum, an immigrant must demonstrate a well-founded fear of persecution based on membership in a specific social group, or due to race, nationality, religion, or political opinion. L-E-A- claimed that his family was a recognizable social group and that the threats against his family therefore qualified as grounds for asylum. The BIA found "no difficulty identifying the respondent, a son residing in his father's home, as being a member of the particular social group comprised of his father's immediate family." The BIA, however, rejected his petition because it did not recognize the connection between his membership in the group and the alleged persecution; they found that he was threatened due to his access to the store, rather than his membership in the group.
AG Barr approved of the BIA's rejection but found that the BIA "improperly recognized the respondent's father's immediate family as a 'particular social group' for purposes of qualifying for asylum under the Immigration and Nationality Act." Barr's ruling upends decades of asylum precedent that previously allowed asylum based on the persecution of a person's family. BIA rulings granting asylum have included things like "kinship ties" or "clan membership" as valid particular social groups for years. Barr now claims that those family ties only matter insofar as they are connected to larger social groups that are "socially distinct in the eyes of its society." It is not immediately clear how many people will be affected by the ruling, but Barr's directive will carry forward for anyone else seeking asylum in the future based on the persecution of their family.
Dedicated and Experienced Legal Help with Asylum and Other Immigration Matters
If you are seeking asylum for yourself or a loved one, contact the passionate and experienced Queens immigration lawyers at Gladstein & Messinger at 718-793-7800 or toll-free at 800-339-0535.