Marriage Fraud Penalties for a US Citizen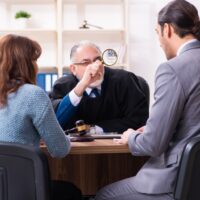 There's a common pop-culture trope about getting married "for the Green Card." For many people who face imminent deportation, marriage seems like a viable option for relief: Marry a U.S. citizen and the non-citizen can obtain permanent status and eventual citizenship. The U.S. government does not restrict who citizens may marry, and so long as the married non-citizen passes the appropriate background checks, they can obtain permission to live and work in the country permanently. Immigration officials are extremely wary of this behavior, however, viewing it as an end-run around the immigration system. Marrying solely for the purpose of obtaining citizenship is a federal crime, and both the non-citizen and the citizen can face serious penalties for entering into such an arrangement. Continue reading to learn about marriage fraud in the United States, and reach out to a dedicated New York immigration lawyer for help with deportation defense, green card, citizenship, visa, or other immigration status issues.
What Constitutes Marriage Fraud?
Non-citizens who marry citizens are eligible to obtain lawful permanent resident status and eventual citizenship after a conditional status period (essentially a waiting period to ensure the marriage is valid and the couple stays together). Any marriage that takes place solely so that the non-citizen can obtain a green card and enter the United States is considered criminal fraud. The U.S. government takes such marriage fraud extremely seriously, and parties who violate the law may be subject to heavy fines, imprisonment, and long-term immigration consequences for the non-citizen.
What Penalties Do U.S. Citizens Face for Marriage Fraud?
Both non-citizens and citizens can face consequences for committing marriage fraud. Pursuant to 8 U.S. Code § 1325: "Any individual who knowingly enters into a marriage for the purpose of evading any provision of the immigration laws shall be imprisoned for not more than 5 years, or fined not more than $250,000, or both."
The text of the law is very clear. Any person, whether a citizen or a non-citizen, who intentionally commits marriage fraud for immigration purposes faces up to five years in prison as well as a $250,000 fine. Individuals who engage in a pattern and practice of marriage fraud for commercial purposes (i.e., establishes a criminal enterprise for getting non-citizens citizenship or sneaking them into the country) also face a five-year prison term.
What if a Couple Stays Together for Immigration Reasons?
Not all situations are as straightforward as two strangers marrying solely for the purposes of citizenship. There have been many times when a couple (a citizen and a non-citizen) gets married for "appropriate" reasons, believing their relationship to be real and permanent, and the relationship later sours. Fearing negative immigration consequences if they divorce, the parties choose to stay married for the requisite number of years in order to ensure that the alien will not be deported even after divorce. Does staying together for immigration purposes constitute marriage fraud?
Several federal appellate courts have found that staying together for immigration reasons is not prosecutable as marriage fraud. If the marriage was valid when originally entered, then the reasons for holding the marriage together later on should not be of concern to federal officials. The rule is not entirely established law, however; the law still technically requires that an actual "family unit" remains in existence at the end of the conditional status period for married aliens seeking permanent status. Talk to your immigration attorney if you are concerned about whether ending your marriage may affect your immigration status or that of your spouse.
If you are seeking asylum, protected status, citizenship or permanent residence status for yourself or a loved one, or if you are facing any issues with your immigration status, contact the professional and compassionate Queens immigration lawyers Gladstein & Messinger at 718-793-7800 or toll-free at 800-339-0535.