How Long Does it Take to Get Citizenship in New York?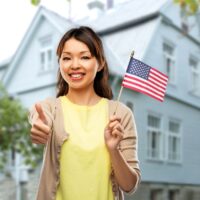 Whether you are a person outside the United States seeking entry into the country, a noncitizen working on a temporary visa, or a lawful permanent resident, you may hope to be a full U.S. citizen down the line. The process can, unfortunately, take some time. Read on for a timeline for getting citizenship in New York. Call a knowledgeable New York immigration lawyer for help with your visa or citizenship status.
Citizenship timeline after becoming a lawful permanent resident (LPR)
As we recently discussed, there are a few pathways to obtaining lawful residence status in the U.S. The different pathways carry different requirements, different types of sponsors filling out different forms on your behalf, and different time frames. Once you have obtained your green card, however, you have begun the process for citizenship by naturalization.
To become a citizen, you must satisfy certain minimum time requirements. These requirements include the following:
Residency. Residency refers to the amount of time since you became a lawful permanent resident. For most applicants, you must be a lawful permanent resident for at least five years before you can apply for citizenship. Spouses of U.S. citizens must be an LPR for at least three years before applying. Individuals who served in the military have fewer requirements.
Physical presence. You must be physically present within the United States for a certain period. For most applicants, you must be living within the country for 30 months before applying for citizenship. Spouses of citizens need only live in the country for 18 months before applying. Soldiers who served during active conflicts have no physical presence requirement.
State residency. You must have lived in a particular state or jurisdiction for a certain time. For most applicants, you must have lived in your current state for at leastthree months to satisfy residency. If you are not subject to a physical presence requirement, then you are likely also not subject to a state residency requirement.
Processing times
Once you have satisfied all of the residency and presence requirements, and assuming you have not otherwise violated any of the conditions necessary for applying for citizenship, you will then have to apply for naturalization. Even when all of your ducks are in a row, you are still subject to government processing times. The amount of time it will take between when you apply for citizenship by naturalization and when you take your oath of citizenship will vary depending on the current volume of individuals applying for naturalization and which U.S. Citizenship and Immigration Service (USCIS) field office will be responsible for processing your application.
The average wait time for processing in New York City is currently about nine months. The timeframe may change in the future and may vary depending on the circumstances of your particular case and whether your case involves specific complications.
If you are seeking citizenship or permanent residence status for yourself or a loved one in New York, contact the experienced and effective Queens immigration lawyers at Gladstein & Messinger at 718-793-7800 or toll-free at 800-339-0535.