EB-3 Third Preference Category Visas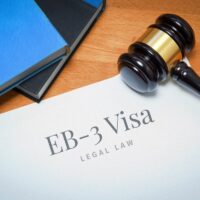 The EB-3 is a form of green card available to immigrants with a job lined up in the United States. The EB-3 differs from other employment-based visas in key respects. Below, we discuss the EB-3 visa, the requirements to apply, and the visa's advantages and disadvantages. Continue reading to learn about EB-3 visas, and call a seasoned New York immigration lawyer for help with deportation defense, green card, citizenship, visa, or other immigration status issues.
What is the EB-3 Visa?
The EB-3 visa is a third-preference employment visa meant for skilled, professional, or other workers. The EB-3 visa is employer-sponsored, meaning the applicant must have a job lined up to apply. The EB-3 visa is a form of green card, meaning it affords the immigrant permanent residency status in the U.S.
The title refers to the visa basis and preference category; "EB" means "workforce-based" or "employment-based" and the "3" indicates third preference. Preference affects the qualifications necessary to obtain the visa as well as the order in which visa applications are considered and the number of visas offered.
The EB-3 green card is often obtained by way of the H-1B visa. H-1B is a temporary work visa, allowing an immigrant to work in a specialty field in the U.S. for up to six years. Many immigrants obtain an H-1B visa to work in the U.S. while they await their chance to obtain permanent residency by way of the EB-3.
Eligibility for EB-3 Visas
The EB-3, third-preference employment visa is available to certain immigrants who will be working in the United States and meet certain additional requirements. There are three sub-categories within the EB-3 label: Skilled workers; professionals; and other workers.
All three categories require the applicant to have a labor certification as well as a permanent, full-time job offer. EB-3 applicants must be sponsored by their prospective employer in the U.S. Additionally, the worker must be "performing work for which qualified workers are not available in the United States."
Each subcategory carries additional requirements:
Professionals: Professionals must have a baccalaureate degree or the international equivalent.
Skilled Workers: Skilled workers must have at least two years of job experience, education, or training that meets the job requirements listed on the labor certification. Relevant post-secondary education may qualify as training.
Unskilled Workers: Unskilled workers must prove the ability to perform unskilled labor (that requires less than two years of training or experience), that is not seasonal or temporary.
Pros and Cons of the EB-3
Obtaining an EB-3 visa grants an immigrant permanent residency status. It's a green card like any other. Once an immigrant obtains an EB-3, they have permanent residency status without the need to re-qualify and without fear of deportation. An EB-3 visa is valid for ten years, after which the green card holder need only pay the renewal fee and prove that they have not been convicted of any crimes or lived outside of the U.S. for an extended period of time. Provided the visa holder has not done anything to disqualify themselves, they can renew the EB-3 indefinitely.
EB-3 is especially sought-after because of its less stringent requirements. Unlike an O-1 visa, for example, the EB-3 applicant does not need to prove extraordinary abilities or national/international acclaim. EB-1 and EB-2 categories set higher education or skill requirements. For an EB-3, the applicant need only have a full-time job lined up and the requisite amount of education, experience, or training.
The principal drawback of the EB-3 is that the application process can take a very long time. The applicant's employer must post the job listing in several places for a period of time in order to certify that the applicant is not taking the job from a qualified citizen. Once the employer has satisfied that requirement, the applicant can apply for their PERM labor certification; that process can take six to nine months. Then, the employer files an I-140 with USCIS, which can take another six months or more.
After that, the applicant must wait for their priority date to become current. Priority dates are based on the number of applications, the order of applications, and the applicant's country of origin. All told, the process takes a minimum of a year and can take upwards of a decade.
Applicants can take steps to ensure they remain eligible to work in the U.S. while their EB-3 application is pending, such as by obtaining an H-1B temporary work visa. Other options may allow the applicant to obtain permanent status much sooner, however, if those routes are available.
If you are seeking asylum, protected status, citizenship or permanent residence status for yourself or a loved one, or if you are facing any issues with your immigration status, contact the diligent and successful Queens immigration lawyers at Gladstein & Messinger at 718-793-7800 or toll-free at 800-339-0535.