Tips for H-1B Visa Applicants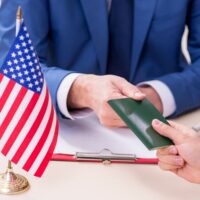 The H-1B visa is one of the most popular work visas offered by the United States. They are also extremely competitive. An H-1B visa allows non-citizens who work in a specialty occupation requiring specialized knowledge and skills to live and work inside the United States. The U.S. Citizenship and Immigration Services (USCIS) receives thousands of H-1B applications every year, but the law sets a limit on the number of visas that can be granted each year. Going into your H-1B application, then, it's important to set yourself up for the greatest chance of success. Read on for advice on applying for an H-1B visa, and call a knowledgeable New York immigration lawyer for help with obtaining a visa, defending against deportation, gaining lawful permanent residence status or citizenship, or other immigration status issues.
Make Sure Your Occupation is Covered
H-1B visas are incredibly competitive, and the criteria for what constitutes a specialty occupation have shifted over the years. Even when the statutory language has not changed, the interpretation of the law adopted by USCIS can change. Under the Trump Administration, for example, a number of criteria were introduced to narrow the scope of what could constitute a specialty occupation, and many of those changes were subsequently reversed under President Biden.
If you are planning to apply for an H-1B visa, consult with your immigration lawyer about your occupation, your employer sponsor, and whether your job qualifies. Talk to your lawyer about how best to identify the aspects that make your occupation a specialty–the education required, the skills you've developed, etc. The job offer and job description from the employer should highlight the elements of the job that make it a specialty occupation. Understanding the criteria thoroughly and crafting your application with help from your immigration lawyer will help you build the strongest case for your visa. If, for example, your education does not meet the H-1B standards, your attorney may be able to help you make up for the missing education with proof of your work experience.
Apply Early
USCIS has a notorious backlog of visa applications of all types. Demand for the H-1B visa, in particular, has far outstripped the supply in recent years. There are very narrow timeframes for the acceptance of applications each year, and missing the deadline means missing your chance to be considered without unnecessary delay.
If you are applying as an employer, make sure your employee is aware of relevant deadlines to get their paperwork in on time. Likewise, if you are an employee, make sure your employer knows what to submit and the deadlines for doing so. Your immigration attorney can assist with communications with your employee or employer to facilitate the process and make sure all documents are submitted within the relevant application window.
Apply Once
H-1B visas are granted to qualified applicants based on a lottery system. It may be tempting, then, to submit multiple applications. Unfortunately, this can backfire. If USCIS identifies multiple applications from the same employer regarding the same employee, they will reject both. They'll take the same action if there are multiple applications from affiliated companies for the same employee. Talk to your immigration lawyer about how to maximize your chances for acceptance, but your best bet is likely to do it once and do it right.
The Employer Should Cover the Fee
This tip isn't about increasing the likelihood of obtaining a visa, but it is something that employee and employer applicants should know. The employer is supposed to pay the application fee for the H-1B. It might even cause problems with USCIS if they learn the employee paid the fee. Employees may cover the cost for expedited processing, however.
If you are seeking asylum, protected status, citizenship or permanent residence status for yourself or a loved one, or if you are facing any issues with your immigration status, contact the professional and successful Queens immigration lawyers at Gladstein & Messinger at 718-793-7800 or toll-free at 800-339-0535.