Attorney General Rules Asylum Seekers Can Be Held Without Bail; ACLU Sues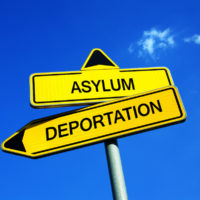 The federal administration recently implemented yet another policy that has attracted the ire of immigrant rights activists. Last month, Attorney General William Barr issued an order aimed at fulfilling the President's promise to end the "catch and release" policy of migrants who cross the border in order to avoid violence or persecution in their home countries. The order directs immigration judges to deny asylum-seekers who cross without authorization the chance to post bail after being arrested, which means they can be detained for years without a hearing and without even the chance to post bond. The rule, which goes into effect this July, has been challenged in federal court. Read on for details about the policy and the lawsuit, and contact a dedicated Queens immigration attorney for help in your immigration case.
AG Barr orders that asylum-seekers who cross illegally will not be given bail hearings
The federal administration has been doing as much as possible to dissuade migrants from coming to the United States to seek asylum from violence or persecution. Some of these efforts, such as a blanket ban on asylum for those who cross the border illegally, have already been blocked in federal court. The Attorney General's most recent order is now being challenged.
Asylum cases involving an illegal border crossing generally proceed like this: A person seeking asylum crosses or attempts to cross the border illegally and is caught and detained. The migrant is eligible to request a "credible fear" interview with Department of Homeland Security (DHS) officials to determine if they have a legitimate claim to seek asylum in the U.S. Credible fear claims include, for example, persecution, torture, domestic violence, and gang violence. Once DHS officials establish credible fear, then the asylum-seeker gets a court date to argue their case before a judge. Until the recent rule change, the asylum-seeker could apply for a bond hearing so that they could be released while waiting for their case to be heard.
Under the Obama administration, judges would use their discretion to evaluate whether release on bail was appropriate based on the credible fear interviews, how the migrant entered the country, and their familial ties in the U.S. Under Barr's new rule announced last month, even if they establish a credible fear of persecution, torture, etc., asylum-seekers are ineligible for release on bond. They must be detained until their removal proceedings conclude, unless they are granted parole by DHS. The change does not apply to unaccompanied minors, who cannot be detained for more than 20 days.
Asylum-seekers are being detained for years without bail or a hearing
Barr's decision is important. The immigration courts have a serious backlog of cases: The average wait time for a pending asylum case is 700 days. That means that a person who establishes a credible fear of persecution can be held in jail for nearly two years waiting for their case to be heard before a judge, with no chance of being released on bail regardless of whether they pose a risk of flight or any other danger to U.S. society.
The American Civil Liberties Union along with the American Immigration Council and the Northwest Immigrant Rights Project filed a class-action lawsuit in Washington federal court in Seattle to put a stop to the new policy before it is implemented. They claim the rule unconstitutionally deprives people of their right to a hearing.
Comprehensive Immigration Law Attorneys at Your Service in New York
If you have questions or concerns about asylum, your citizenship, or your visa status, contact the compassionate and knowledgeable Queens immigration lawyers at Gladstein & Messinger at 718-793-7800 or toll-free at 800-339-0535.