Why Do People Seek Asylum?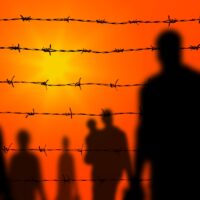 People do not seek asylum lightly. Most people prefer to remain in the country in which they were born and raised. Even if they do travel outside of their country, people typically rely on the traditional visa systems for immigration–tourist visas, school visas, work visas, marriage, etc.–and go through the typical channels to stay in the country. Some people, however, have an urgent and critical need to leave their country. For those people, staying in their own country means risking arrest, violence, or death, based on who they are rather than on any bad conduct. To protect those people and allow them a safe haven, the United States has a system for granting non-citizens asylum. Continue reading to learn about the legal justifications for seeking asylum in the U.S., and reach out to a zealous New York immigration lawyer for help with deportation defense, green card, citizenship, visa, or other immigration status issues.
Grounds for Asylum: Persecution Based on Protected Grounds
To seek asylum in the United States, the noncitizen must prove to the government that they are a refugee, meaning that they would face persecution should they be forced to return to their home country. Not all forms of persecution qualify. The persecution they face must be based on one of five grounds:
Race
Religion
Nationality
Membership in a particular social group
Political opinion
The noncitizen must be able to show that one of those five grounds "was or will be at least one central reason" for their persecution in their country. Typically, noncitizens are granted asylum when they face immediate danger in their country due to some sort of violent uprising or widespread violence or activity directed at members of the noncitizen's race, religion, or another qualifying characteristic. For example, if the noncitizen would be arrested, assaulted, killed, or forced to have an abortion simply because of their race or that of their family, then they would have grounds for seeking asylum.
Noncitizens Can Now Seek Asylum Based on Fear of Domestic Violence, Gang Violence
Under the previous federal administration, noncitizens fleeing domestic violence or gang violence were generally not granted asylum. The Trump administration deliberately limited the purview of the asylum program, disallowing asylum based solely on prior and anticipated future domestic violence or gang violence. The admin ruled that these types of fears were not rooted in the persecution covered by the asylum system. Thankfully, those rulings have been vacated under the current Biden administration.
Attorney General Merrick Garland explicitly and deliberately vacated the prior Justice Department decisions concerning domestic violence and gang violence, opening the door for asylum for women fleeing from domestic violence in their home country as well as families targeted by violent gangs. The rulings do not fully resolve who is and who is not entitled to asylum, and both the Justice Department and Homeland Security are currently working on new rules concerning asylum as directed by President Biden.
Under the current rules, the domestic violence must be motivated by one of the five protected grounds (political opinion, religion, race, nationality, or membership in a social group), and the government must be unwilling or unable to protect the applicant from the perpetrators of the violence. A woman facing domestic violence because her government and culture do not recognize her right to be free from domestic persecution might, for example, be able to argue that being a woman constitutes membership in a particular social group subject to persecution in the country. Likewise, if she faces violence from her family for marrying outside her race, and the government is unable or unwilling to protect her and her family, she and her family might qualify for asylum.
If you are seeking asylum, protected status, citizenship or permanent residence status for yourself or a loved one, or if you are facing any issues with your immigration status, contact the knowledgeable and experienced Queens immigration lawyers at Gladstein & Messinger at 718-793-7800 or toll-free at 800-339-0535.