What Is a 221(g) Form?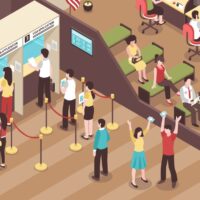 Whenever foreign nationals wish to travel to the United States, they will have to go through several processes to be granted a visa that will allow them to enter the country. As part of the application process, it is common for the U.S. embassy or consulate to conduct an interview with the applicant about their intentions for traveling to the U.S. as well as collect any necessary documents. This interview process will determine whether or not an individual will be granted a travel visa.
During the interview process, it's common for applicants to be issued a form 221(g). This form indicates that the visa which the foreign national is applying for has temporarily been put on hold. The reasons a form 221(g) is issued vary from applicant to applicant. Below, we'll take a look at some common questions concerning form 221(g) and what applicants can expect after its issuance.
What Form 221(g) Is
If a visa applicant received a 221(g), this does not necessarily mean that their visa has been denied. Rather, it means that there are issues with their application that need to be remedied before the visa application process continues and a visa can be issued.
If a form 221(g) is provided for visa applicants, this will usually mean that the applicant is missing specific documents that the consular office or U.S. embassy has requested. The 221(g) refusal form can be overturned once the applicant has provided these necessary documents.
Visa applicants will sometimes be provided with another form that details reasons why they were issued the 221(g). This allows a visa applicant to gather the necessary documents in order to correct the issues with their application.
Reasons a 221(g) Is Issued
When a 221(g) is issued, there are different color forms that applicants can receive. The different colors help applicants discern why they were given that form and what they can do to address the issues with their application.
221(g) Blue Form
A blue 221(g) form is issued when the U.S. consulate needs additional supporting documents to make a decision on the visa application.
221(g) White Form
When a white 221(g) form is issued, this is an indication of a complex category under 221(g). This form indicates that further processing must take place when the case is given over to U.S. Citizenship and Immigration Services (USCIS). Additionally, a final decision on the visa application will be made after USCIS takes into consideration the information they have been given.
221(g) Pink Form
If a pink 221(g) form is issued, this is an indication that the consular office has suspicions or concerns about the information provided on the foreign national's visa application. These suspicions can arise from a variety of factors, including questions about the applicant's intentions for visiting the U.S., concerns about work information, issues with a background check, or other qualifications. A pink form will bring with it further administrative processing. The visa applicant may also receive a reference ID to track the progress of their application.
221(g) Yellow Form
If a yellow 221(g) form is issued, this is an indication that the consulate needs additional time to look over the provided documentation for the visa application. The time frame for approval or denial of the visa varies and largely depends on the circumstances of the application as well as the general administrative processing needed to validate the documents associated with the application.
What Happens After a 221(g) Form Is Issued?
Once an applicant receives a 221(g) form, they have to follow up with the necessary requirements to remedy the issues detailed on the color-coded form. Applicants will then need to submit the required documents or information to the Visa Facilitation Services (VFS) in order to continue with the visa application process. This can be done electronically or by sending the required documentation to a location listed on the 221(g) form. The visa application process will only continue once all the necessary documents are received by the VFS.
After an applicant submits the necessary documents, they will then enter a waiting period in which their visa continues being processed. The waiting time varies from case to case and applicant to applicant. While the US Travel Docs Website indicates that the waiting period takes roughly 60 days, the process can actually take anywhere from weeks to several months.
After the waiting period, applicants will be notified by the USCIS about their next appointment. During the next appointment, the interview process will continue and a decision will be made about whether or not an applicant will be granted their visa.
How to Track Form 221(g) Processing
The U.S. Department of State details that applicants cannot reach out before 180 days about the status of their application. However, applicants can track the progress of their case using their reference ID.
Applicants can also track their passports on the US Travel Docs Website. When using their case number, applicants can also check on the status of their 221(g) case through the US Department of State Visa Status page. Not all consulates offer a tracking method electronically; applicants can contact their consulate for additional methods in which to track their case.
Having an experienced attorney on your side can help you navigate the complicated visa application processes efficiently and successfully. Contact one of our experienced attorneys at Gladstein & Messinger by calling 718-793-7800 or 800-339-0535 to answer all your immigration visa questions and concerns.