What Is the Time Frame for Visa Processing in the US?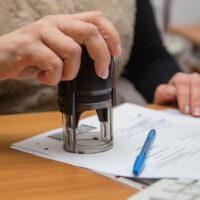 If you're planning on visiting, working, or living in the United States, you want to get your visa sooner rather than later, but understanding the timeline for visa processing can be quite a challenge. Below we discuss some of the factors that go into visa processing times and what you can do to make the process go faster. For help with visas or other immigration legal issues in New York, contact Queens Immigration Law, the law office of Gladstein & Messinger P.C., to discuss your needs with a skilled and knowledgeable U.S. immigration lawyer.
Visa Processing Time Frames: A General Overview
The timeline for visa processing in the US varies significantly based on the type of visa you're applying for. It can range anywhere from a few weeks to several months, and in some cases, even a few years. Processing times can be affected by various factors, including the demand for a particular visa category, the country the applicant is from, and whether the application is complete and free from errors.
Understanding the Steps to Obtain a US Visa
To better understand the visa processing timeline, it's essential to break down the steps involved in obtaining a US visa:
Application Submission: The first step is to fill out the necessary visa application forms. This step might also require the submission of supporting documents.

Visa Application Review: After submission, your application goes through an initial review to ensure all the information is correct and all necessary documentation has been submitted.

Appointment Scheduling: Once your application is deemed complete, you'll be scheduled for an interview at a US embassy or consulate.

Consular Interview: During the interview, a consular officer will verify your information, ask further questions about your application, and decide whether to grant the visa.

Visa Issuance: If approved, your visa will be issued and sent to you.
Do Some Visas Get Processed Faster Than Others?
Yes, some visa categories do get processed faster than others. For example, non-immigrant visas such as tourism (B-2), business (B-1), and student visas (F-1) generally have shorter processing times than immigrant visas like family-based or employment-based visas. This is because non-immigrant visas involve less paperwork and fewer security checks, allowing for a smoother and quicker processing timeline.
Which Visas Are Easier to Get?
Determining the "easiest" visa to get is complex because it depends on your individual circumstances, such as your purpose of travel, financial status, nationality, and more. However, tourist visas (B-2) and business visas (B-1) are often seen as less complicated to obtain due to their temporary nature and fewer requirements compared to permanent residency visas.
How Can I Expedite the Visa Process?
There are several ways to potentially speed up your visa process:
Ensure Accuracy: Making sure your application is accurate and complete can prevent delays caused by requests for additional information or corrections.

Apply Early: The earlier you apply, the more time you give for processing, increasing your chances of having your visa ready when you need it.

Premium Processing Service: For some visa types, you can use USCIS's Premium Processing Service for an additional fee, which guarantees a review within 15 calendar days of receipt.
Role of an Immigration Lawyer in Visa Processing
Working with an experienced immigration law firm can greatly facilitate the visa process. At Queens Immigration Law, we understand the complexities of US immigration law and can provide guidance, helping you select the correct visa type, ensuring your application is filled out accurately, preparing you for your interview, and offering advice on how to handle any obstacles that may arise.
The journey to obtaining a US visa doesn't have to be overly stressful. With the right help and information, you can navigate the process successfully. For more information, contact Queens Immigration Law at 718-793-7800 or toll-free at 800-339-0535, where our experienced team is ready to assist you with all your immigration needs.