USCIS Introduces New Rule on Unlawful Presence Waivers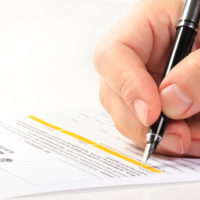 US Citizenship and Immigration Services (USCIS) has recently announced an expansion of the 2013 rule allowing immediate family members of US citizens to avoid being denied a visa based on a period of unlawful presence in the US. The rule is scheduled to enter into effect on August 29, 2016.
Normally, when a foreign national has spent over 180 days in the US while not under lawful immigrant status, they will pay a penalty of being barred for three years from reentering the US after departing. If their time in the US without lawful immigrant status was over a year long, then that bar to return to the US will be ten years long. Thus, if a foreign national who spent time in the US without legal status is required to process their immigrant visa petition through a US Embassy or Consulate outside the US, they run the risk of being prohibited from returning to their lives and families still in the US for several years. The Immigration and Nationality Act is a statute which allows the USCIS to waive this bar to reentry when a visa applicant can demonstrate that extreme hardship would come to a family member who is a US citizen or lawful permanent resident as a result of a ban on reentry.
As of 2013, the only foreign nationals eligible to apply for these waivers were those with spouses, children under 21 years of age, or parents who were US citizens. These foreign nationals could submit an application for this waiver prior to leaving the US to submit a visa application in order to avoid being denied reentry after completing the visa application process abroad, if they were able to demonstrate why their family member would suffer extreme hardship if they were denied reentry. However, this program had an impact limited only to those visa applicants who were related to a US citizen. As of August 29 of this year, the waiver program will be expanded to include those with parents, children under 21, or spouses who are either US citizens or lawful permanent residents. The applicant must still demonstrate in what manner their family member will suffer an extreme hardship if they are not allowed to return to the US, and must otherwise be eligible to receive an available immigrant visa. Those who have committed fraud, broken the law, or are subject to other grounds for a denial of their visa aren't eligible for an unlawful presence waiver. A knowledgeable immigration attorney can assist you in determining your own eligibility for an unlawful presence waiver, and can submit an application on your behalf.
If you are seeking help with an application for an immigrant visa, permanent resident visa, or for US citizenship, contact the skilled and detail-oriented Queens immigration attorneys at Gladstein & Messinger for a consultation on your case, at 718-793-7800.