U.S. Rolls Out New Rules Limiting Asylum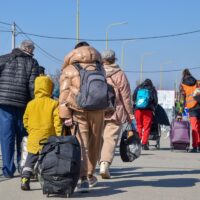 President Biden's administration has not been as progressive with regard to immigration reform as many immigrant rights advocates had hoped. The government has announced a number of policies aimed at limiting immigration, several of which could have a severe effect on migrants seeking asylum within the United States. Most recently, the federal government announced a rule that would reject asylum seekers who either entered the country illegally or who passed through other countries on their way to the United States. Continue reading for details about the proposed rule, and if you need assistance seeking asylum or with other visa status matters, call a professional, experienced New York immigration attorney at Queens Immigration Law for help.
Asylum Seekers Must Try Other Countries First
The Biden administration recently proposed a new rule that could severely limit the ability of non-citizens to seek asylum within the country's borders. The rule was announced on February 21, 2023, and formally published on February 23. There will be a 30-day period for public comment. If the rule is finally adopted, it would likely go into effect this May, when the pandemic-era Title 42 is set to expire. The rule would last for 24 months following its effective date.
Per the text of the rule, it is meant to "encourage migrants to avail themselves of lawful, safe, and orderly pathways into the United States, or otherwise to seek asylum or other protection in countries through which they travel, thereby reducing reliance on human smuggling networks that exploit migrants for financial gain." In practice, it will pose a significant barrier for anyone seeking asylum within the U.S.
Under the new rule, there will be a presumption that any non-citizen seeking asylum is ineligible if they passed through other countries before arriving at the southern border of the United States, without first seeking asylum in those countries. In practice, virtually anyone seeking asylum from any country other than Mexico will be presumed ineligible unless they first applied for asylum in Mexico and the other countries through which they traveled to get to the U.S.
Critics of the policy point out that it mirrors Trump-era limitations, which raised many humanitarian questions at the time. The Biden administration has defended the proposal, distinguishing their version as setting only a "rebuttable presumption" of ineligibility for asylum, rather than a complete ban as was the case under the last regime. Applicants can overcome the presumption by showing that they were denied safe harbor in Mexico and elsewhere on their way to the U.S.
Opponents argue the exceptions are narrow and ineffective to address the concerns posed by the rule. Immigrant rights advocates intend to flood the comment period with opposition and sue to enjoin enforcement of the rule if it is formally enacted.
No Asylum for Applicants Who Crossed Illegally
The new rule would also change long-standing policy regarding asylum applicants located within the country. Current U.S. immigration law allows non-citizens to apply for asylum regardless of how they entered the country. Even if they arrived illegally and without declaring themselves at the border, they can later apply for asylum based on persecution and danger in their home country.
Under the proposed rule, immigration officials would presume that a non-citizen is ineligible for asylum if they entered the country illegally. The rule would give immigration officials easy grounds to reject an asylum application and deport the non-citizen should they have entered the country without setting up an immigration appointment before arriving.
Call a Qualified Immigration Lawyer
At the law office of Gladstein & Messinger, P.C., our team is committed to helping you and your loved ones navigate important USCIS application requirements. Contact our team today to learn more about how changes to the asylum rule might impact your case, and for help moving forward in your asylum, visa, or green card application.