Tips to Get Your Family Sponsored in the US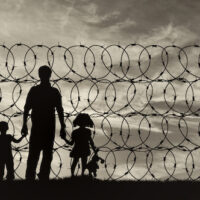 If you're living in the United States as a citizen or a lawful permanent resident (green card holder), you have the ability to sponsor a non-citizen family member for a visa. Sponsoring a family member allows them to enter the United States and stay permanently on a legal visa.
Continue reading for advice on how to get your family sponsored in the United States. Reach out to an experienced New York immigration lawyer for help with obtaining a visa, defending against deportation, gaining lawful permanent residence status or citizenship, or other immigration status issues.
General Requirements For a Family Sponsorship
Family sponsorship allows a family member already within the United States to sponsor another family to enter the country and obtain permanent residence status (a green card). Family sponsorship is only available for permanent residents or U.S. citizens. There are a number of additional requirements for family sponsorship.
First, the current citizen or resident must prove that they can support the sponsored family member financially. There's an annual income requirement for the sponsor, which is typically just above the poverty line.
Second, sponsorship is only available for people with sufficiently close familial ties to the current citizen or resident. The sponsored family member must also satisfy certain additional requirements.
Sponsorship involves gathering appropriate documents, including things like proof of residency, proof of income, and proof of familial ties, filling out the appropriate sponsorship forms, and submitting the forms, documents, and application fees to the U.S. Citizenship and Immigration Services (USCIS). USCIS will process the application, review the criteria, and render a decision. Processing times vary, but applications are typically processed within 6-12 months. The COVID-19 coronavirus pandemic caused a significant immigration backlog, meaning that application processing may still take longer than it used to.
Who Can You Sponsor?
Citizens and permanent residents can each sponsor certain family members for a green card, but citizens have a few more options. A U.S. citizen can sponsor any of the following family members:
● Spouse
● Unmarried child under 21
● Parents
● Married children
● Siblings
● Cousins
There are an unlimited number of visas for "close family members," meaning unmarried children, spouses, and parents. There are a limited number of visas for the other listed family members. The closer the familial tie, the more preference is given to the visa application.
Lawful permanent residents can only sponsor either their noncitizen spouse or children under the age of 21.
Eligibility Requirements for the Sponsored Family Member
In addition to being related to the sponsor, the family member outside the United States must also meet certain eligibility requirements. The family member must:
● Not be inadmissible to the U.S. based on criminal history or immigration violations
● Not have previously been denied entry into the U.S.
● Not be currently living in the U.S. illegally
Work With an Experienced Immigration Attorney
The sponsorship process is complex. There are different requirements, inroads, forms, processes, and deadlines for different types of visas. The rules may be different depending on whether you are a citizen or permanent resident. If you make any mistakes on your forms, you could set the process back months or years. If you want to get your loved one into the country legally, it's important to do it right.
To get the job done correctly, and to give your family member the strongest chance at obtaining a visa, you need to work with a knowledgeable immigration lawyer. Your lawyer will help you understand who is eligible, what documents and forms you'll need to collect, what evidence you'll need to prove their eligibility, and how the process works. Your immigration attorney will handle the legal minutiae, making sure that nothing falls through the cracks, all deadlines are met, and work with USCIS to address any issues.
If you are seeking asylum, protected status, citizenship or permanent residence status for yourself or a loved one, or if you are facing any issues with your immigration status, contact the zealous and compassionate Queens immigration lawyers at Gladstein & Messinger at 718-793-7800 or toll-free at 800-339-0535.