U.S House Votes to Bar Funding to So-Called "Sanctuary" Cities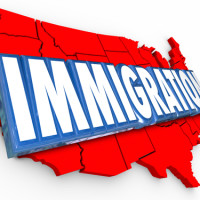 Between the looming presidential election and the tragic shooting death of a woman, allegedly by an illegal immigrant whom federal authorities had tried to detain, immigration has become a topic demanding a great deal of attention by national politicians. In what some believe is a response to presidential candidate Donald Trump's strong anti-illegal immigration stance, the U.S. House passed a bill this week which would block funding to so-called "sanctuary" cities. Local law enforcement in these cities, which include New York City and San Francisco (where Kathryn Steinle was killed), do not regularly investigate the immigration status of citizens, nor do they report that status to federal authorities. The Obama administration has declined to take legal action against these cities, despite the fact that these practices essentially ignore federal immigration law. Further to this point, President Obama has stated that he would veto the bill eliminating funding to sanctuary cities, citing concerns that discouraging the sanctuary practices would lead to law enforcement subjecting citizens to excessive questioning on their immigration status.
The bill was passed with strong Republican support, splitting the House along party lines. The proposed law was moved through the house quickly after Kathryn Steinle's death by Juan Francisco Lopez-Sanchez, an undocumented immigrant who had previously been convicted of a felony and deported to Mexico five times. Trump has drawn attention for incendiary comments about Latino immigrants, and despite comments from fellow Republicans disavowing these remarks, conservative politicians appear to be adopting a similarly hard-line stance. As a result, Democrats in Congress have taken to calling this proposed law "the Donald Trump Bill." Cities employing the sanctuary practice defend the policy as encouraging trust between law enforcement and immigrants, encouraging the reporting of crimes.
Obtaining legal permanent residence, citizenship, or even an extended visa can be a complex process, involving constantly-shifting guidelines and rules. If you or someone you know is seeking to live legally in the United States, seek legal help with the knowledge and persistence to make that dream a reality. Contact the Queens, New York law offices of Gladstein & Messinger for a consultation on your immigration and citizenship legal issues, toll-free at 1-800-339-0535.