Trump's Executive Actions on Immigration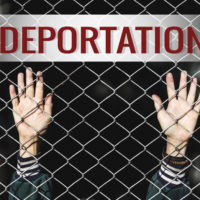 In less than one week in office President Donald Trump is attempting to make good on his campaign promises to take a hard line on immigration.   While the news focuses on the border wall and who is paying for it, what should concern immigrants the most is the intended policy changes in street level immigration enforcement.
Changes could mean more immigrants being placed into removal proceedings, more immigrants being held in immigration jails and more immigrants being removed for the United States and separated from their families.   In the last few years the Obama administration had moved away from physically removing immigrants who were not deemed a danger to the community most with family ties in the U.S.   Enforcement priorities were changed to allow many deportation/removal cases to be closed without a final order of deportation and physical removal from the U.S.
Under the new orders, undocumented immigrants will be considered a priority for deportation if they have been convicted of any crime; have been charged with a crime, even if it has not been resolved; have committed acts that constitute a chargeable offense; have engaged in fraud before a government agency; abused public benefits; are subject to a removal order but have not left the country; or are judged by an immigration officer to "pose a risk to public safety and national security."  This is actually a tougher stance than President Trump had taken during the campaign when he stated he would concentrate on criminal aliens.
These new enforcement priorities seemingly will allow deportation of legal immigrants even without criminal convictions as it includes the language "acts that constitute a chargeable offense."   Such people and those with deportation orders will involve hundreds of thousands of people.  This will no doubt include many families, a lot of immigrants with children and people who have resided in the U.S. for a long, long time.
For assistance if you or someone you love has concerns with these new immigration enforcement priorities, particularly if you are subject to a final order of removal or deportation, contact the experienced and trustworthy Queens immigration attorneys at Gladstein & Messinger for a consultation on your case, at 718-793-7800.