Texas Judge's Ruling Causes Halt in Deferred Action Expansion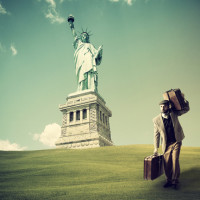 Late last year, President Obama signed a series of executive orders expanding the Deferred Action for Children Act (DACA) to include more people (see New Immigration Laws Announced, posted November 21, 2014). The president's executive action also included a new program of deferred action for parents (DAPA) of U.S. citizens or lawful permanent residents who do not have legal status. The implementation of the expanded DACA was expected to begin on February 18, but just days before USCIS was to begin accepting applications under the expanded program, a federal district court judge in Texas issued a ruling that the executive orders were not implemented properly. This ruling has stopped the program expansion, at least temporarily, while the legal issues are litigated.
A group of 26 states had gotten together and sued the United States in the U.S. District Court for the Southern District of Texas. In his 123-page ruling in State of Texas, et al. v. US, Judge Andrew Hanen decided that the new programs would place a burden on state budgets, and the president should have gone through the administrative rulemaking process, inviting public comment before implementing new regulations.  Judge Hanen also took the opportunity to criticize the administration for failing to secure the border and properly enforce the nation's immigration laws.
The judge issued a preliminary injunction halting the new programs, but the U.S. Department of Justice  immediately announced its intention to file a motion for a stay of the injunction with the Fifth Circuit Court of Appeals. This motion was finally filed on March 12th, in advance of a March 19th hearing scheduled in the Brownsville, Texas, court. This issue may even get appealed to the U.S. Supreme Court before it is over.
The USCIS page on DACA currently announces that the agency is not accepting petitions under the new programs at this time, due to the federal court order and temporary injunction issued on February 16.  DAPA, which could affect as many as 4 million parents of U.S. citizens or lawful permanent residents, was originally slated to begin in May.
We fully expect that the stay of President Obama's programs will be lifted soon and we can begin filing DAPA and expanded DACA applications for our clients.