Supreme Court to Decide Whether Immigrants Are Subject to Indefinite Detention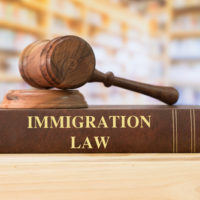 The fall term for the US Supreme Court is about to begin, during which they'll hear an important case regarding whether immigrants can be detained indefinitely while awaiting their deportation, or if they have a right to release on bail.
The case, titled Jennings v. Rodriguez, was filed on behalf of over 1,000 immigrants to the US, some of whom are here legally, and some who entered the country illegally, but all of whom have been held in a federal detention center for at least six months without a bail hearing. The case was originally filed back in 2010 by the American Civil Liberties Union in US District Court in Los Angeles. Alejandro Rodriguez, the lead plaintiff in the class action, was brought to the US as a child, later becoming a legal permanent resident. He was convicted of drug possession in 2003, which resulted in an order that he be deported. Rodriguez spent three years in detention, pending his deportation proceedings. The remaining plaintiff class members are either legal permanent residents who have a criminal history, or those who have been identified as having entered the country illegally, but have not committed any other crime.
In a previous case, the Supreme Court ruled that immigrants who are awaiting deportation should not remain in custody for longer than six months. However, they noted that this period can be extended in special circumstances, such as where the individual poses a threat to national security. The ACLU brought the case on behalf of Rodriguez and others who have been in federal detention for over six months. Once an immigrant has been detained for six months or more, the average length of detention was 404 days in the jurisdiction where the case was originally filed. The plaintiffs sought an order from the court stating that detained immigrants were entitled to a hearing on whether they could be released on bail pending their deportation. Such a hearing would require the government to prove with "clear and convincing evidence" that the individual was a flight risk or a danger to their community, should the government wish for that individual to remain in detention. The government argued that there was no precedent for awarding bail hearings to immigrants to be detained, that US law states only that immigrants with criminal records "shall be detained" and deported, and that the release of these individuals could pose a serious threat to public safety. The ACLU argued that those being held for months or years at a time have jobs and families in the US, and that many of those being held for prolonged periods are ultimately allowed to remain in the US.
The plaintiffs won at the District Court, resulting in an order issued in 2012 that required the federal government to grant a bail hearing to immigrants detained longer than six months. The government appealed to the US Court of Appeals for the Ninth Circuit, and the District Court's decision requiring bail hearings was upheld. The Supreme Court will now have the final word on this issue.
If you are in need of compassionate, knowledgeable, and determined legal help with your visa, lawful permanent residency, or US citizenship application in New York, contact the Queens immigration law firm Gladstein & Messinger for assistance with your case, at 718-793-7800.