Supreme Court Rules Full Travel Ban Can Take Effect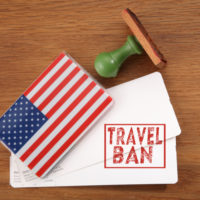 Since its initial introduction by the Trump administration, the travel and immigration ban largely focused on Muslim countries has faced fierce legal challenges, with the bulk of the rule being found unconstitutional by multiple federal courts. On Monday, December 4, the US Supreme Court ruled that the full travel ban can now enter into effect while cases challenging the ban are still ongoing in lower courts.
The travel ban was first introduced during the first week of Trump's administration, and was immediately met with protests at airports across the country. The rule banning citizens of several nations, largely populated by Muslim people, was immediately challenged in federal courts. Most judges who were asked to consider the law ruled it illegal. The ban has been rewritten by administration officials multiple times over the intervening months to be less broad, but new iterations have still met with challenge by federal courts.
The current version of the travel ban was issued in September of this year, but it was immediately put on hold before being allowed to enter into effect. In November, the law was allowed to take effect with the caveat that it did not apply to people with so-called "bona fide" relationships in the US. This meant that people who hailed from countries on the restricted list, but who had close familial relationships with US citizens or job offers from businesses located in the US, remained able to travel here.
This restriction on the rule was meant to be temporary, put in place while federal courts of appeals in Seattle, Washington and Richmond, Virginia could consider the legality of the travel ban. On Monday, the Supreme Court lifted this restriction, no longer waiting for the lower courts to issue rulings on the ban for the law to take full effect. The Supreme Court will most likely consider the law in full after the federal courts issue their opinions. Arguments before each federal court were scheduled for this week. Those opposed to the ban argue that the rule unconstitutionally discriminates against immigrants based on their religious beliefs, rather than on the basis of protecting America's national security interests.
If you're a New York resident in need of skilled and professional legal help with an immigration issue during these times of ever-shifting rules, contact the knowledgeable and effective Queens immigration law firm Gladstein & Messinger at 718-793-7800.