Supreme Court Case Finds No Right to Judicial Review of Visa Denial to Spouse of US Citizen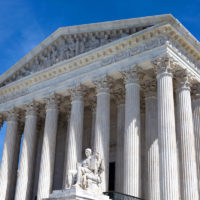 In a recent opinion, Kerry v. Din, United States Supreme Court has issued a decision on a case involving the right to have a visa denial reviewed in court for citizen spouses of denied applicants. In this case, Fauzia Din, a naturalized American citizen, had married Kaniska Berashk, a citizen of Afghanistan. Berashk submitted an application for a visa to the U.S. embassy in Islamabad, Pakistan. His application was denied. The responsible consular officer had cited that "terrorist activities" were responsible for the denial, but failed to describe in detail any particular activities that had led to the denial. Din sought review of this decision in a federal trial court, believing she should be allowed to contest the consular officer's decision as an American citizen with a legal right to marriage, or to at least be given a more elaborate and detailed basis on which the consular officer rejected the application. Upon reaching a federal appeals court, Din was told that the application for citizenship had been decided on an insufficient basis.
However, the Supreme Court disagreed with this decision. While the decision was close, with four Justices disagreeing with the majority, the essential takeaway is that, even an American citizen does not have a right to a more detailed explanation to the reasoning behind a denial of a citizenship application of a spouse, as the US has an almost-absolute right to deny citizenship to applicants. To the extent Din did have a right to information on why the application was rejected, that right was satisfied by the explanation that Din received. While the court did not rule out the possibility of there being an occasion where the reason given by a consular officer was not sufficient to satisfy the rights of citizens under the US Constitution, in this case, Din did not have a right to challenge this decision in court, and consular officers will continue (for now) to have almost unchallengeable authority to deny applications for citizenship.
Immigration matters such as visa applications can be drawn-out and unpredictable, even when an application is made under circumstances where an approval would be expected, such as marrying an American citizen. Find a New York immigration attorney whom you can rely on to provide proven, knowledgeable assistance on your citizenship and visa application matters. Contact the experienced Queens immigration attorneys at Gladstein & Messinger to speak with an attorney about your case today, at 718-793-7800.