Understanding the Difference: Refugee vs Asylee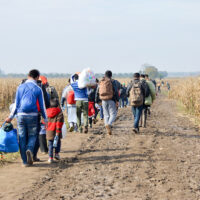 The U.S. Immigration and Nationality Act defines a refugee as a person outside of his or her country of nationality who is either unable to return to their country or unwilling to return to their country because of persecution or fear that is based on their race, religion, nationality, political belief, or membership in a particular social group.
Individuals who are asylees are those who meet the definition of a refugee and are already living in the United States or at a port of entry. Asylees gain entry into the US at one of the 328 officially designated Ports of Entry around the U.S. Here, they can claim asylum and begin the process of being an asylee in the U.S.
Unlike asylum seekers who apply for protection at the U.S. Port of Entry or after they are already in the country, refugees can only apply for protection when they are in their home country or overseas. Once their request has been granted, they are then able to come into the U.S.
Becoming a Legal Immigrant as a Refugee or Asylee
Once in the United States, refugees are required to apply for permanent residency, commonly called a green card, one year after being admitted into the US.
Asylees may also apply for lawful permanent residency one year after their grant of asylum. After obtaining a green card, both asylees and refugees are lawful permanent residents of the U.S. but will have to continue adhering to the rules and regulations associated with immigrants who are permanent residents.
Why Does It Matter Whether a Person Is a Refugee or an Asylee?
Overall, both refugees and asylees have similar rights. The main difference is in the way a refugee or asylee can become a lawful permanent resident, and potentially a citizen.
Refugee Path to Citizenship
According to the U.S. Refugee Admissions Program (USRAP), certain individuals from certain groups are prioritized because of U.S. Humanitarian concerns.
The USRAP designates priority categories with top priority (P-1) being individuals who were referred to a U.S. embassy, the United Nations High Commission on Refugees (UNHCR), or certain non-government organizations.
Priority two (P-2) lists individuals who are part of a group that has a humanitarian concern according to the U.S. government. Finally, priority three (P-3) includes reunification cases that allow spouses, children, and other family members to be reunited with their loved ones in the US.
After a refugee is approved, they are paired with a sponsoring resettlement agency. This agency will help the refugees continue with the process of relocating to the U.S. and help to provide them with services including housing and employment after they arrive. Following one year of residency in the U.S., a refugee is then allowed to apply for lawful permanent residency, or a green card. The path to citizenship is then closer as they can apply to become a US citizen four years after obtaining their green card.
Applying for Permanent Residency as an Asylum Seeker
Once in the U.S., asylum seekers have one year to apply for asylum. Because of the nature of how asylees enter the U.S., asylum seekers will typically apply for asylum one of two ways. They either do so through a USCIS asylum officer, or they do so once they are apprehended and begin the removal process — or deportation — from the U.S.
When applying for asylum, asylees must fill out and file Form I-589, the Application for Asylum and Withholding of Removal.
Unlike refugees who are given employee authorization through their sponsoring resettlement agency, asylees must apply for employment authorization after their application for asylum has been approved. There are certain circumstances where an asylee can apply for a work permit as their Form I-589 is in the process of getting approved.
Much like refugees, after their application is approved, they can apply for a green card one year later. After obtaining a green card, they can apply for citizenship four years afterward.
When to Seek Legal Support
Whether you are a refugee, an asylee, or the family of either, seeking out legal support and guidance can help you obtain legal representation so that you understand your rights and options. An experienced immigration law attorney like the team at Queens Immigration Law can help you understand the necessary forms and documentation so that you can file them with confidence. This helps in the approval process because you are less likely to get denied or run into issues because of any inaccurate form recordings.
After approval of refugee or asylee status in the U.S., the road to lawful residency in the U.S. can continue to be overwhelming. Having experienced legal counsel on your side can give you the confidence and guidance and expertise you need during the process. To learn more about refugee and asylee rights, contact our team and schedule a confidential consultation on your case.