Obama Administration Orders ICE Raids on Families Over Holidays and Into the New Year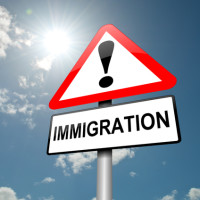 Recent raids conducted by Immigrations and Customs Enforcement (ICE) appear to be in direct contradiction to assurances made by the Obama administration in recent months, and have left families in fear for their continued ability to remain in the country, as well as leaving a number of politicians frustrated at the seeming reversal that the Obama administration has made.
The recent series of ICE raids seems to have begun, unfortunately, on Christmas Eve. The raids occurred in a number of large cities across the US, including a number of raids in New York City. The Department of Homeland Security (DHS) announced in late in December its intention to begin conducting the raids beginning in January of 2016, but in fact began the series of raids that week. DHS stated that, pursuant to instructions from the Obama administration, the raids would be targeting those families who entered the US after January 2014. Experts report that over 100,000 families, many of which are seeking refuge from violence in Guatemala, Honduras, and El Salvador, have crossed the border over the last two years.
Democratic lawmakers have expressed outrage at the Obama administration for conducting these raids against families over the holidays, some of whom they assert will face a serious threat of violence upon return to their home countries. Many have pointed out that the Obama administration has previously stated that its priority is in first deporting felons, and to make the deportation of families very low on the list of priorities. Sen. Harry Reid of Nevada decried the lack of opportunity he believes many immigrant families in his own state have had to complete their application for asylum before being shipped back to the country from which they fled.
Representatives from DHS state that all of those being detained in the recent series of raids were first detained after May 1, 2014 while attempting to cross the southern US border illegally. The adults and families sought via the raids have all already received a final order of removal, issued by an immigration court, and have no remaining appeals or open claims for asylum or humanitarian relief. At least one woman asserts that she had been granted an order of supervision prior to the detention of herself and her two children, aged 11 and 17. Orders of supervision are a form of humanitarian relief which allow deportable immigrants the ability to live and work in the US provided that they regularly check in with immigration authorities.
If you are in need of skilled assistance with your immigration matter in New York, including completing an application for asylum or a work visa, contact the knowledgeable Queens immigration law attorneys at Gladstein & Messinger for a consultation on your case, at 718-793-7800.