New York City Passes Law Allowing Non-Citizens to Vote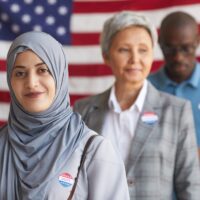 Non-citizens, whether they are staying in the United States on a visa, permanently as a lawful resident, or unlawfully, lack political power as a group. While advocacy groups are promoting the rights of noncitizens and more favorable immigration laws, the noncitizen population as a whole has one major disadvantage: They can't vote. Non-citizens have no right to vote under the U.S. Constitution, and nearly every jurisdiction prohibits non-citizens from voting. New York City recently enacted a law granting suffrage to non-citizens, aiming to level the playing field and foster proper representation across the city. Read on to learn about the law and voting rights across the country, and call a knowledgeable New York immigration lawyer for help with deportation defense, green card, citizenship, visa, or other immigration status issues.
New York City Set to Allow Non-Citizens to Vote
At the tail end of 2021, the New York City council approved a law that would grant more than 800,000 non-citizens and "Dreamers" in the City the right to vote in municipal elections. New York City Mayor Eric Adams had originally expressed misgivings about the measure, but in early January 2022, he chose not to veto and allowed the bill to become law.
The measure applies to legal residents of the city, including both lawful permanent residents (green card holders) and Dreamers who were brought to the country illegally as children but have been permitted to remain under the federal Deferred Action for Childhood Arrivals (DACA) program. Non-citizens of legal age who have been lawful permanent residents of the city for at least 30 days, as well as people authorized to work in the U.S. (including Dreamers), will be allowed to vote in municipal elections for the city mayor, city council members, comptroller, and other local offices. An estimated 808,000 non-citizens will be allowed to vote in New York City elections starting on January 9, 2023.
New York's law would apply only to municipal elections. City officials lack the authority to grant voting rights in state or federal elections, meaning non-citizens still cannot vote for members of Congress, for the President, for members of the state legislature, or for judges and other officers. It is, nevertheless, a welcome start.
Republican officials have expressed misgivings about the law. The Republican National Committee has already filed a lawsuit decrying the law as unconstitutional.
Where Can Non-Citizens Vote in the U.S.?
As of early 2022, there are only fifteen local U.S. jurisdictions where non-citizens have the right to vote, now including New York City. Other jurisdictions allowing non-citizens to vote in local elections include the cities of Winooski and Montpelier in Vermont as well as 11 jurisdictions across the State of Maryland. San Francisco, CA permits non-citizens to vote for members of the school board. Municipalities in several other states including Illinois and Maine are considering similar policies.
There's nothing in the federal constitution that explicitly prevents non-citizens from being granted the right to vote in elections, be they federal, state, or local. Non-citizens used to enjoy the right to vote in federal and state elections until the early 1900s when many states acted to restrict non-citizen voting rights. Congress passed a law in 1996 preventing non-citizens from voting in federal elections (U.S. congressional elections, presidential elections, etc.). Now, no state constitutions explicitly allow non-citizens to vote in state or local elections, and the Arizona and North Dakota state constitutions explicitly forbid non-citizens from voting in state and local elections. Many other state constitutions include language specifically referring to U.S. "citizens" with regard to voting rights.
New York's new law is a welcome moment for non-citizen rights, but it's still far too early to see it as a sign of greater voting rights for non-citizens in the future.
If you are seeking asylum, protected status, citizenship or permanent residence status for yourself or a loved one, or if you are facing any issues with your immigration status, contact the dedicated and effective Queens immigration lawyers at Gladstein & Messinger at 718-793-7800 or toll-free at 800-339-0535.