Non-Citizen and U.S. Citizen Divorce: What Happens?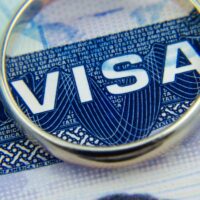 U.S. lawful residency and eventual citizenship are wonderful secondary benefits to marrying a U.S. citizen as a non-citizen. Immigration officials are, however, always on the hunt for anyone who appears to be "gaming the system" by marrying a citizen solely to obtain a green card. What happens if you enter into a marriage with a U.S. citizen for all the right reasons but, despite your best intentions, the relationship ends? Are you suddenly subject to deportation and other legal consequences? Continue reading to learn about how divorce can affect visa and citizenship status, and call a seasoned New York immigration lawyer for help with deportation defense, green card, citizenship, visa, or other immigration status issues.
Immigration Consequences Depend on Length of the Marriage
A non-citizen can obtain a two-year provisional or conditional green card after marrying a U.S. citizen. After two years, they can petition for lawful permanent residence status (LPR or "green card" status), and can eventually obtain U.S. citizenship. A non-citizen permanent resident married to a U.S. citizen can apply for citizenship after holding LPR status and living in the U.S. continuously for three years.
If the couple divorces within the first two years, then the non-citizen could lose their conditional green card and be subject to deportation. The non-citizen can petition for a waiver to remain in the country so long as they demonstrate either: (a) the marriage was entered in good faith (meaning for reasons other than immigration) and ended for reasons other than the fault of the non-citizen; (b) the non-citizen spouse would face extreme hardship if deported; or (c) the non-citizen was subjected to domestic violence by their U.S. citizen spouse.
If the couple divorces after two years and the non-citizen has already obtained their green card, then the non-citizen should be able to retain their LPR status without issue. They might face delays in obtaining full citizenship, however (married non-citizens have a shorter residency requirement before they are eligible to take the citizenship test). If they have any criminal convictions or have otherwise violated the terms of their residency, they face the same risk of deportation as any other non-citizen resident.
Divorcing while still on conditional residency status can certainly complicate the residency process. It is important to have a knowledgeable immigration attorney in your corner throughout the process to ensure that your divorce does not leave you subject to deportation.
Child Custody
Non-citizens divorcing U.S. citizens in the U.S. may worry that their citizenship status will affect custody determinations. Thankfully, citizenship is not a determinative factor in custody decision-making. Family courts will conduct a full analysis based on the "best interests of the child." If both spouses will remain in the country following the divorce, then the citizenship status of each party should be nearly irrelevant.
If, however, one spouse fears they will be subject to deportation following the divorce, it is vital to work with a seasoned immigration attorney in addition to a knowledgeable family lawyer. A pending deportation could affect a family court's analysis regarding the best interests of the children for the purposes of custody.
If you are seeking asylum, protected status, citizenship or permanent residence status for yourself or a loved one, or if you are facing any issues with your immigration status, contact the experienced and effective Queens immigration lawyers at Gladstein & Messinger at 718-793-7800 or toll-free at 800-339-0535.