Newest Version of Travel Ban Considered Most Restrictive by Experts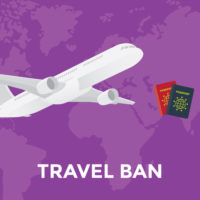 The Trump administration has recently introduced a revised version of its travel ban. While the latest ban has lifted restrictions on some countries, it has also introduced or intensified restrictions on others. Some experts have suggested that this is the most restrictive iteration of the travel ban, and it is also the first version that is intended to last indefinitely. Learn more below, and contact an experienced New York immigration lawyer with any questions on how this ban could affect you and your family.
The latest version of the travel ban affects citizens of eight countries: Iran, Libya, North Korea, Chad, Somalia, Syria, Venezuela, and Yemen. The newest version of the ban is scheduled to enter into effect on October 18, 2017. These restrictions on travel to the US will not impact those who hold existing visas. The new version of the ban does not address the refugee ban that existed in previous versions, which is set to expire on October 24.
Citizens of these eight countries will still be permitted to seek exemptions from the restrictions if they have ties to the US. Under a decision by the US Supreme Court, close relatives of citizens or residents of the US are exempt from the travel restrictions, as are people who have bona fide ties to companies, schools, or other organizations in the US. The new travel ban would limit those exemptions by allowing only some exemptions for people seeking work in the US, and by requiring that the US-based relatives be more closely-related in order to obtain an exemption.
The ban has different restrictions on travel, depending on the country being targeted. Syrian citizens will be barred from entering the US indefinitely. Iranian citizens who do not already hold a valid student or J-1 (exchange visitor) visa will be barred indefinitely, and individuals with one of those visas will be required to pass "enhanced screening and vetting requirements" in order to enter. It is unclear what is entailed in these "enhanced screening" requirements. Libyan, Yemeni, and Chadian citizens will not be permitted to come to the US as long-term or permanent residents, or as tourists or on business visitor visas. North Korean citizens and Venezuelan government officials will be unable to enter the US indefinitely. Somali citizens will not be allowed to enter the US to remain long-term or on a green card, but they may be granted a short-term visa should they pass "additional scrutiny."
If you are concerned about your ability to legally remain in the US and need skilled legal advice, contact the knowledgeable and compassionate Queens immigration attorneys at Gladstein & Messinger at 718-793-7800, or toll-free at 800-339-0535.