New Laws Designed to Protect Non-Citizens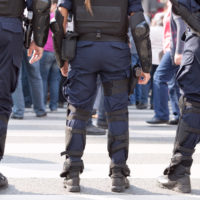 Two new laws—one being considered by the US Congress, and one that has been passed by the New York City Council—seek to protect undocumented individuals from both ICE agents calling themselves police, and scammers calling themselves immigration experts.
Rep. Nydia Velazquez, a congressperson representing Brooklyn, introduced a bill before the House of Representatives earlier this month that would prevent ICE agents from having the word "police" on uniforms worn during immigration raids. Rep. Velazquez explained that numerous videos have become public which show ICE agents verbally identifying themselves as police officers prior to entering a home, only to raid the homes and detain the occupants once allowed inside. These videos show federal immigration agents in jackets bearing the words "POLICE ICE" in large yellow letters.
In cities like New York which continue to label themselves "sanctuary cities," residents had believed they could trust police officers, but distrust of all law enforcement has spread as a result of this practice. Rep. Velazquez told local news, "Not only are ICE raids an unconscionable attack on our most vulnerable communities, any attempt by immigration officers to deceivingly pose as local police ought to be prohibited. After holding various 'Know Your Rights' workshops in my district, I've heard firsthand from families who fear reporting crime or engaging with the police due to the potential of getting caught up with immigration agents. This only makes our communities less safe." The bill is, unfortunately, not expected to pass the majority-conservative House.
Closer to home, the City Council recently passed a law that will make it harder for scammers to take advantage of those in search of help with immigration issues. These fraudulent companies have been doing even more harm than before, bilking desperate, often undocumented individuals out of thousands of dollars without providing help to stay in the country. The new law will require immigration service providers commonly labeled "notarios" to provide written notice to potential clients that the organizations are not permitted to offer legal advice. These companies will also have to display signs in their offices in multiple languages, explaining that they are not immigration attorneys, and offering clients phone numbers for actual legal service providers. Organizations violating the laws can receive fines of up to $10,000.
If you or someone you love is in need of legal help with an immigration issue, contact the compassionate and dedicated Queens immigration attorneys at Gladstein & Messinger for a consultation on your case, at 718-793-7800.