New Citizenship test to go into effect December 1, 2020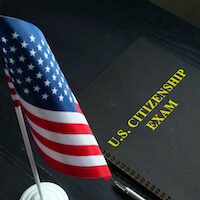 USCIS has announced that all applicants for naturalization who file their applications on or after December 1, 2020 will be given a new civics test.  The current history/civics test is a 10 question test.  The questions asked at a naturalization interview are pulled from a list of 100 possible test questions.   In order to pass the civics portion of the naturalization exam an applicant need only get six questions correct.
The new test, which will affect all applications filed after 12/1/2020 , will now contain 20 questions.   USCIS is expanding the list of possible questions from 100 to 128.  In order to pass the test an applicant will now need to answer 12 questions correctly.  This is a significant increase from the current requirement and will require more study and preparation for many citizenship applicants.
Anyone who is eligible to file for naturalization now should file before December 1, 2020, particularly if they feel the new requirements would be difficult.
We are here to help with the naturalization process.  Please call Gladstein & Messinger, queensimmigrationlaw.com at 718-793-7800 to schedule a consultation to discuss the new rules and the application process.