What is the Process of Naturalization in the U.S.?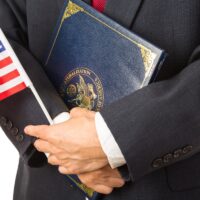 Naturalization refers to the process by which a person who is not born in the United States becomes a U.S. citizen. There are multiple pathways to citizenship, but once a person is eligible, there are a few steps that everyone must generally take to complete the naturalization process. The measures include applications to and interviews with the U.S. Citizenship and Immigration Services (USCIS). Read on for an explanation of how the naturalization process works in the U.S. and contact an experienced New York immigration lawyer for help with any citizenship or visa issues, or with any questions about your immigration status.
Eligibility requirements
As we have previously discussed, there are a few different pathways to citizenship, including lawful permanent residence status and marriage to a U.S. citizen. Generally speaking, most applicants for citizenship will need to satisfy these eligibility requirements:
● Have a green card for at least five years
● Have lived in the same state for at least three months
● Have continuously resided in the U.S. for at least five years immediately preceding the application
● Have been physically present in the U.S. for at least 30 months of those five years
● Be able to speak, read, and write basic English
● Be of good moral character
Depending on your circumstances, you may be exempt from many of these requirements. Proving good moral character, however, is a strict requirement, and it might be difficult for people with certain issues in their background, such as a criminal record, unpaid taxes, or delinquent child support. An immigration attorney can help determine whether you are eligible and ensure that you have all of the supporting documentation necessary to prove your eligibility.
The naturalization process
Once you are eligible, you will generally proceed as follows to become naturalized:
● Prepare and submit a Form N-400, the Application for Naturalization
● If applicable, attend a biometrics/fingerprinting appointment
● Complete a naturalization interview with a USCIS officer and pass the requisite tests
● Secure a favorable decision from USCIS on your Application for Naturalization
● Receive a notice to take the Oath of Allegiance to the U.S.
● Take the Oath of Allegiance
The naturalization interview has a few components. The USCIS officer will ask the applicant about their application and their background. The applicant will also need to pass two tests – an English test (reading, writing and speaking) and a civics test. Study materials are available for applicants to help them prepare for these tests. Certain applicants may be able to secure an exemption or waiver from the tests.
If you are seeking citizenship or permanent residence status for yourself or a loved one, contact the knowledgeable and compassionate Queens immigration lawyers Gladstein & Messinger at 718-793-7800 or toll-free at 800-339-0535.