MA's GEIR Helps Foreign Entrepreneurs Stay in the U.S.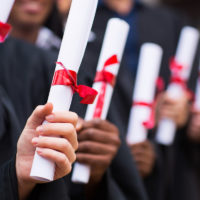 For highly-skilled foreigners, the H-1B visa is the best and most popular option for working and living in the United States. However, it has an annual quota of 85,000, except for those who are sponsored by a nonprofit research institution. This fall, Massachusetts launches the Global Entrepreneur in Residence (GEIR) program to keep talented entrepreneurs in the country—and in the state—after they've completed their degrees.
Under the program, "qualified, highly skilled, international students currently in Massachusetts" will be allowed to remain in the state after graduation if they are starting or growing a business. Selected students (who are eligible for H-1B visas but unable to get them because of the federal cap) will serve as "entrepreneurs in residence" at public and private institutions, where they will work part-time and apply for visas that will be sponsored by their new employers.
While it may be a workaround, Greg Bialecki (MA's Secretary of Housing & Economic Development) insists that the GEIR program fits squarely within existing immigration law. Institutions of higher learning are exempt from the H-1B visa cap and can apply for visas for their employees at any point throughout the year. In addition, there's no requirement for an individual seeking a visa to be a fulltime employee in order to receive a cap-exempt H-1B from a university.
Of course, federal immigration reform would have a much more significant impact on the H-1B visa issue than any state law. And if foreign entrepreneurs didn't have to attach themselves to working part-time, they could focus solely on their ventures. But it doesn't look like we'll see any changes to federal law anytime soon—an immigration reform bill that would create a new class of startup visa for foreign entrepreneurs is stalled in the House after passing the Senate in June.
Thus, if the GEIR program is successful and if immigration reform continues to languish at the federal level, other states could follow Massachusetts' lead in addressing the entrepreneurial exodus of talented foreigners.