ICE Detentions of Persons with No Criminal Record Skyrocket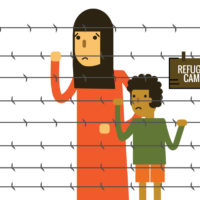 Immigration has been a central issue to the Trump administration. As debate in the Senate begins over a proposed permanent solution for participants in the Deferred Action for Childhood Arrivals program before it is slated to end next month, a report has been released by the Washington Post showing the extent to which Immigrations and Customs Enforcement (ICE) activity has kicked into high gear since Trump took office. Read on to learn more about who ICE agents are targeting in their enforcement efforts, and contact a knowledgeable New York immigration attorney for more information.
More arrests among noncriminal persons
As promised during the presidential campaign, the current administration has ramped up immigration enforcement dramatically since taking office. According to the Washington Post, there has been a 40% increase in arrests by ICE officers since Trump took office.
Under the Obama administration, ICE agents were given very specific targets for enforcement efforts. ICE agents were instructed to focus on detaining those in the country illegally who had criminal records, and to let those who were living and working in the country peacefully continue to do so. Under Trump, however, ICE has had greater discretion in determining who to arrest. ICE officials describe the increase in discretion as Trump taking "the shackles off" these agents when making arrest decisions.
Increasingly, ICE arrests are occurring among individuals without criminal records. During the fiscal year of 2017, ICE arrested 37,734 "noncriminal" persons. This is over double the number of noncriminal detentions that occurred in 2016. While immigrants who appeared for "check-ins" with ICE officers to request more time in the country used to be able to feel confident that they wouldn't be arrested during these meetings, this is no longer the case.
Arrests among longtime residents and activists increasing
In recent weeks, many noteworthy ICE arrests have occurred among respected and prominent members of local communities who have been in the country for decades. Even pro-immigrant activists have been targeted, raising concerns about these individuals' free speech rights under the First Amendment. One troubling recent arrest was that of New York immigration activist Ravi Ragbir. Ragbir was later released by federal District Court Judge Katherine B. Forrest, who stated in her written opinion on the case, "It ought not to be — and it has never before been — that those who have lived without incident in this country for years are subjected to treatment we associate with regimes we revile as unjust. We are not that country."
If you're facing an immigration issue in New York and want professional, compassionate, and knowledgeable legal help, contact the Queens immigration attorneys at Gladstein & Messinger for a consultation, at 718-793-7800.