How to Hire Foreign Workers in the US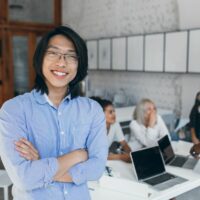 If you intend to hire a foreign worker for a United States-based position at your company, you need to ensure that the worker has an appropriate visa allowing them to work in the country legally. If the employee does not already have legal permanent residence status (green card) or another applicable work visa, you'll need to get involved with the process. Employers are responsible for obtaining visas for prospective employees. Below, we offer a few tips and considerations for hiring foreign workers in the U.S. Call a qualified New York immigration lawyer for help with obtaining a visa, defending against deportation, gaining lawful permanent residence status or citizenship, or other immigration status issues.
Consider Your Employer-Sponsored Visa Options
Most employment visas require employer sponsorship. That means that you will be applying for the foreign worker's visa, in order to hire them for a U.S.-based position. Certain employment-related visas do not require an employer sponsor, but even those benefit greatly from support from an employer. Assuming your prospective hire does not already have a visa in hand (self-sponsored or otherwise), you will need to petition on their behalf.
Different visas are available for different purposes. Some are geared toward long-term employment, some toward short-term or seasonal work; some visas are permanent, while others are temporary (typically, the length of employment with regular renewals). Some require a certain type of degree, certain qualifications, or certain levels of skill in the relevant area of employment.
Take into consideration your company's needs and what your foreign hire will bring to the job when deciding upon the proper visa to seek. Common temporary employer-sponsored visas include:
H-1B. Temporary visa for professional workers in a specialized occupation, typically requiring an advanced degree.
H-2A. Temporary visa for agricultural workers.
H-2B. Temporary visa for non-agricultural workers, typically utilized for seasonal work or one-off projects.
O-1. Temporary visa for immigrants with "extraordinary abilities" in athletics, education, sciences, arts, film, or television.
J-1. Temporary visa for training or educational exchange program.
L-1A and L-1B. Visa for intra-company transfers, reserved for executives, managers, or employees with specialized skills.
You can also seek a permanent visa for your employee. EB-2 visas are available for professionals with an advanced degree or special ability. EB-3 visas are available for "skilled workers" with significant work experience, professionals with a university degree, or unskilled workers filling a position for which qualified workers are not available in the United States. Certain specialty professions qualify for other visas.
Obtain a Department of Labor Certification
Before applying for the visa, you'll need to obtain a labor certification from the Department of Labor (DOL). Different certifications may be required depending on the type of immigration program the non-citizen will be utilizing. The certification is generally meant to ensure that there are not sufficient U.S. workers able, willing, qualified, and available to fill the position the employer is seeking to fill with a non-citizen.
Petition USCIS for the Visa
Obtaining the DOL certification is just the first step in the process. You'll need to petition the U.S. Customs and Immigration Services (USCIS) on behalf of the foreign worker in order to obtain their visa. Moreover, obtaining a DOL certification does not guarantee final approval for the employment visa.
The process differs depending on which type of visa you are seeking. Talk to an experienced immigration attorney about your options, how to prepare, and how to build the strongest petition for your foreign worker visa.
If you are seeking to hire a foreign worker or you need assistance with asylum, protected status, citizenship or permanent residence status for yourself or a loved one, contact a thorough and dedicated Queens immigration lawyer at Gladstein & Messinger at 718-793-7800 or toll-free at 800-339-0535.