How have Deportations Changed since Trump Took Office?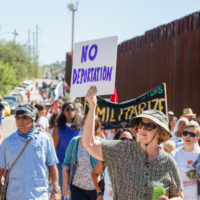 In the months leading up to his election, Donald Trump made immigration reform one of his most discussed policies, even going so far as to promise to deport everyone who was in the country illegally. Currently, the Department of Immigration and Customs Enforcement (ICE) is conducting raids all over the country, causing fear to spread among communities of immigrants. That said, during his time in office, President Obama also gained a reputation as being hard on illegal immigration. Recently, the Washington Post examined how the immigration policies of Presidents Obama and Trump differed, based on what we currently know about the Trump administration's policies. Read on to learn more, and contact a skilled and experienced New York immigration attorney with any questions.
Based on the statistics surrounding immigration enforcement, the heightened tensions among immigrant communities are justified. According to the investigation conducted by the Washington Post, roughly 21,362 immigrants have been arrested since Trump's inauguration. This is a nearly 33% rise in arrests over the same period in 2016. Deportation hearings are currently being set at up to six years from now, due to the tremendous backlog of cases.
One of the most substantial differences between the Trump and Obama approaches to immigration is the type of immigrant being targeted for deportation. The Obama administration prioritized the detention and deportation of violent criminals and threats to national security. According to the Migration Policy Institute, those policies were reflected in the actual arrests made by authorities. In 2016, 85% of those unlawful immigrants removed from the US had recently crossed the border. Over 90% of all others removed from the US were convicted of a serious crime, as defined by Homeland Security.
In contrast, Trump's executive order on immigration, issued shortly after his inauguration, expanded the focus of those being targeted for deportation to include not only convicted violent criminals, but also anyone who had acted in ways "that constitute a chargeable criminal offense." Among those so far arrested by Trump, the rate of arrests of immigrants who had not been convicted of a crime (other than being in the country without authorization) has doubled. The Washington Post learned by examining the records of a sample of those apprehended by the Trump administration that many either had no criminal convictions, or had been found guilty of a traffic violation.
For assistance with applications for visas, permanent residence, or citizenship in New York, or for strong and effective deportation defense, contact the Queens immigration attorneys at Gladstein & Messinger for a consultation on your case, at 718-793-7800.