House Passes "Kate's Law" and Law Targeting Sanctuary Cities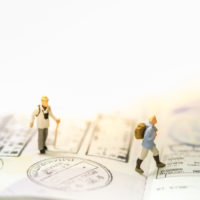 The US House of Representatives recently passed two bills targeting undocumented immigrants. "Kate's Law" will target undocumented persons who enter the country repeatedly, and the "No Sanctuary for Criminals Act" will make cities more responsible for enforcing federal immigration laws.
Longer prison sentences for repeated illegal entry
"Kate's Law" increases the amount of prison time that an undocumented immigrant could face for repeatedly entering the country after being deported. Individuals who had previously been convicted of a crime who are apprehended trying to re-enter the country could face between 10 and 25 years in federal prison, should the bill become law. The bill was named for Katherine Steinle, a San Francisco woman killed by an undocumented Mexican national who had been repeatedly deported and had a criminal record. Trump has previously claimed that San Francisco's status as a sanctuary city was the reason that Steinle's killer was able to commit the crime.
Denial of federal grants to sanctuary cities
The "No Sanctuary for Criminals Act" would prevent cities that had designated themselves as sanctuary cities from receiving federal grant monies. While each city defines the term differently, sanctuary cities place limits on whom they will turn over to immigration officials and whom they will detain in their municipal jails on behalf of Immigration and Customs Enforcement. Under the House-passed bill, cities would also have expanded responsibilities in regards to enforcing federal laws on immigration, including by requiring local officials to hold those suspected of being in the country illegally for 48 hours after an arrest by the federal officers.
"Callous and irrational"
Representatives from states affected most by immigration largely spoke up against the bills. Rep. Jerrold Nadler of New York called "Kate's Law" "callous and irrational." Rep. Lou Correa of California said of "Kate's Law," "Yes, we must keep out the 'bad hombres.' But we must continue to welcome those who come to America to work hard and contribute. This bill fails to make this critical and important distinction. Do not brand millions of immigrants as criminals when their only crime is searching for the American dream." A version of "Kate's Law" came before the Senate in 2016, when it failed to pass. Pundits have speculated that both bills seem unlikely to pass the US Senate, despite their success in the House.
If you or someone you love needs assistance in applying for a US visa or citizenship, contact the dedicated and knowledgeable Queens immigration lawyers at Gladstein & Messinger for a consultation on your case, at 718-793-7800.