H-1B Visa Application Overload Results in Massive Lottery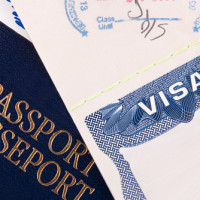 A record number of applications for H-1B visas has resulted in a lottery for those slots, putting thousands of current visa-holders' futures in jeopardy. The U.S. Citizenship and Immigration Services received approximately 233,000 applications but will hand out only 85,000 H-1B visas. H-1B visas are temporary visas applied for by an employer which allow employees in specialty occupations to remain in the U.S.
Many business leaders and politicians are frustrated by the low cap on H-1B visas and are petitioning for changes to the system. Several major titans of business are leading the charge. Mark Zuckerberg, CEO of Facebook, has launched an immigration lobbying group called FWD.us, which is also backed by Microsoft founder Bill Gates and Yahoo CEO Marissa Mayer. These companies all recruit a large number of international employees who would qualify for H-1B visas but are hamstrung by what they claim are outdated limits.
Another big name behind a fight for more H-1B visas is former New York City mayor Michael Bloomberg, via his organization, Partnership for a New American Economy. This organization publicized the story of Pierre-Jean "PJ" Cobut, a Belgian health care device entrepreneur whose student visa is soon due to expire. Cobut has announced that, if he and his Israeli co-founder are unable to obtain H-1B visas via the lottery, he will be forced to relocate his business to Canada. Proponents of visa reform have created a Twitter hashtag, "#LetPJStay," to draw attention to the debate.
Critics of increasing the number of H-1B visas point to evidence of foreign staffing agencies making thousands of visa applications to increase the share who do obtain visas, and allegations that utility company Southern California Edison replaced laid-off information technology workers with employees from India. However, the law requires that any employee working under an H-1B visa be paid at or above the market rate for the position they fill. Plus, the notion that H-1B visa applicants are taking jobs from American citizens may be mythical. One study by the Brookings Institution found that 43% of positions for which companies made visa applications that were rejected, simply weren't filled.
If you are attempting to navigate the challenging and complex process of obtaining legal residence in the U.S., or if you are an employer trying to fill position with qualified international workers, don't try to go it alone. Seek assistance from the skilled and experienced Queens immigration attorneys at Gladstein & Messinger, P.C. For a consultation, call 718-793-7800 or toll free at 800-339-0535.