How to Renew a Green Card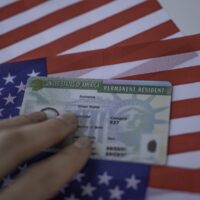 Individuals with permanent residency status in the United States, meaning people who have their green cards, must still jump through the occasional legal hoop to ensure that they do not face any unnecessary legal challenges. Your green card has an expiration date. When it expires, you are still a lawful permanent resident, but you do need to renew your green card to prove that you can live and work lawfully in the U.S. Below, we explain when you need to renew a green card and how to do so in accordance with the guidance issued by the U.S. Citizenship and Immigration Services (USCIS). Contact a knowledgeable New York immigration lawyer with any questions about your green card, visa application, or citizenship status.
Who must renew or replace their green card?
The design of the green card changes periodically, and current green cards expire. Once you obtain lawful permanent resident status, you do not lose your status simply because your card expired. Still, you do need to get a replacement card in order to avoid any unnecessary complications with the authorities. Individuals are required to replace their green card under the following circumstances:
● You have a green card that is valid for ten years, and your card has either already expired or will expire in the next six months.
● Your card has been lost, stolen, or damaged.
● You were issued a ten-year card before you turned 14 years old, and the card will not expire before your 16th birthday.
● Your card lists any incorrect biographic information, such as your name, issue date, or date of birth, as a result of an administrative error.
Who may replace their green card?
Even if your green card is not expiring, you might still have reason to get a new card. You may want to correct biographical or contact information or ensure that your green card and citizenship are up to date with all requirements. You are eligible to replace your green card if any of the following is true:
● You have legally changed your name or other biographic information.
● Your card does not currently list an expiration date.
● You have taken up commuter status, meaning you regularly commute to work in the U.S. but live in Mexico.
How to renew your green card
Our office can assist with the renewal or replacement of your green card. Most of the time, the only supporting documentation you will need is a copy of your expired or expiring green card. If your card has been lost, stolen, or damaged, you might need additional proof. Supporting evidence may include other forms of government ID, a passport, a Form I-797 ("Notice of Action"), proof of your employment over the last six months, or evidence of your temporary residence status, depending on your circumstances. Speak with an immigration lawyer to learn what supporting documents you may need to submit along with your renewal application.
If you have any questions about your immigration status, or if you are seeking citizenship or permanent residence status for yourself or a loved one, contact the professional and dedicated Queens immigration lawyers Gladstein & Messinger at 718-793-7800 or toll-free at 800-339-0535.