Federal Lawmakers Respond to DACA Ruling, while Renewals Remain Open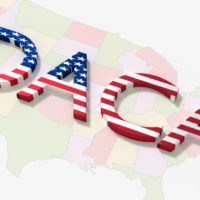 The Deferred Action for Childhood Arrivals (DACA) program has been at the center of the news for weeks, with the continued existence of the program in peril. After last week's ruling by a federal judge preventing the abrupt end of DACA and allowing current beneficiaries to renew their applications, dreamers across the country have been rushing to submit their applications. A new challenge from the White House could bring another challenge to the continued existence of the program.
DACA at center of fight over government shutdown
In September, the Trump Administration announced that it would be ending the DACA program in March of 2018, and that federal lawmakers had the six intervening months to find a long-term solution for those who entered the country illegally as children. Lawmakers have since been considering bills that would replace the DACA program. Many democratic legislators have hoped to get legislation supporting DACA recipients passed as part of a bill to fund the federal government, as the government is facing a shut-down if legislators do not pass such a bill.
One proposal that has gained widespread attention is the bipartisan fix presented by Sen. Lindsey Graham, a republican, and Sen. Dick Durbin, a democrat. Their bill would have given long-term legal status to current DACA recipients, strengthened security at the border, and ended the diversity visa program, which provides visas to 50,000 people from countries underrepresented among US visa recipients. The senators brought this plan to the White House on Thursday, January 11, 2018, but talks were unsuccessful, resulting in Trump's now-infamous comments about the types of immigrants he did and did not want invited into the US through a visa program. According to insider reports, senators are nonetheless continuing to consider the proposal.
DOJ requests immediate Supreme Court review of judge's DACA ruling
Applications for renewals of the legal protections granted by DACA resumed on Saturday, January 13, and are continuing "until further notice," according to the US Citizenship and Immigration Services website. However, that "notice" could arrive sooner rather than later. The Department of Justice has requested that the United States Supreme Court immediately review the judge's ruling that prevented the end of DACA. Normally, such decisions would be reviewed by the Supreme Court only after a federal Court of Appeals first had an opportunity to review the decision, but the Department of Justice believes that it is necessary to act faster to resolve the issue "quickly and fairly for all the parties involved." Those applying for a renewal of their DACA status are encouraged to act as quickly as possible before additional changes can occur that could affect their right to renew.
If you're in need of skilled New York legal help with your DACA renewal, visa application, or application for citizenship, contact the knowledgeable Queens immigration attorneys at Gladstein & Messinger for a consultation, at 718-793-7800.