Federal Judge rules DACA reinstated in full.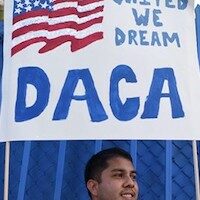 On December 4, 2020, a U.S. District Court for the Eastern District of New York ordered DHS to fully reinstate the DACA program. The order is effective immediately, and DHS is required by the order to post a public notice stating that it is accepting new, initial DACA applications, work permits are valid for two years, and DACA recipients are eligible to apply for Advance Parole.  USCIS posted a note on its website on December 7, 2020 that they will now accept new DACA applications and advanced parole applications from current DACA recipients.
The DACA – Deferred Action for Childhood Arrivals – program granted work authorization in two year periods and in some case permission to travel outside the United States to applicants who could provide they arrived in the U.S. before they turned 16 years of age.    The programs was started on June 15, 2012.   Applicants needed to prove that they were in the U.S. on that day, were in the U.S. since June 15, 2007 and under 31 years of age on June 15, 2012 and are in school, graduated high school or served in the Military.  Certain arrests or criminal convictions could make someone not eligible.
Please contact our experienced DACA attorneys at 718-793-7800 or email us at queensimmigration@gmail.com to schedule an appointment to see how you or your loved ones could benefit from the DACA program.