Federal Court Dismisses Arizona Sheriff's Challenge to Obama Administration Immigration Policies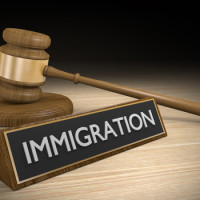 The US Court of Appeals for the District of Columbia Circuit ruled in August that Sheriff Joe Arpaio of Maricopa County, Arizona did not have legal standing to bring a federal lawsuit attempting to challenge the Obama administration's recently announced immigration policies that would help millions of undocumented immigrants avoid deportation. The sheriff had brought the case on the grounds that the new federal policies – which would allow for undocumented immigrants with a son or daughter who is a U.S. citizen or permanent resident to defer deportation actions – would cause injury in the form of a domestic crime wave, draining municipal resources and filling prisons. The appellate court found that Arpaio's allegations failed to properly allege an injury that could be sufficiently connected to the immigration policies he was challenging, and that a prediction of a crime wave was too speculative of an injury, and thus not permitted.
Sheriff Arpaio, who has been in his position for 23 years, has become a national figure based on his anti-immigration stances, as well as Department of Justice investigations into racial profiling and unlawful police conduct by his department, and his ongoing "investigation" into the authenticity of President Obama's birth certificate. His lawsuit comes at a time when other national figures, including those running for President, are stoking public attitudes on immigration issues.
While the Obama administration was victorious in dismissing Arpaio's claims, the policies continue to be on hold pending the outcome of a constitutional challenge to the policies overseen by a Texas district court judge. In that action, 26 states sued the federal government to stop the administration's proposed changes in immigration policy from being implemented. The injuries alleged by the states in that action are that the states will bear the burden of handling undocumented immigrants by having to provide public schooling for undocumented children and deal with the costs of publicly funded health insurance. The lawsuit also alleges that the new policies, if put into place, will result in increased immigration and therefore further injure those states.
Notably, 13 states have filed briefs in support of the Obama administration's implementation of the immigration policies, which also would allow for a path to citizenship for undocumented immigrants who came to the US as children or teens. Judge Andrew Hanen, the federal judge presiding over the challenge at the federal district court, has signaled on numerous occasions an antipathy towards the Obama administration's policies. Judge Hanen "stayed" (or in other words, legally put on hold) the implementation of the policies while the legal challenge continued, which could potentially go on for the duration of the Obama presidency. At a recent hearing, administration lawyers apologized to Judge Hanen for issuing work permits to undocumented immigrants after the stay was ordered, and the judge repeatedly criticized the administration's response to his order.
The immigration process in this country is one subject to intense scrutiny and subject to change based on the rulings of various federal courts. If you are making decisions about when and how to apply for permanent residency or citizenship, find legal counsel you can trust to guide you through this confusing process.
Contact the compassionate and experienced New York immigration attorneys at Gladstein & Messinger for assistance with your claim, at 718-793-7800.