EB5 and Angel Investors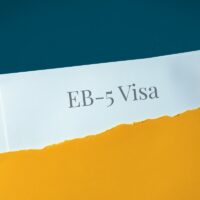 There are many pathways to obtaining a green card outside of the standard student visas and work visas. In the 1990s, in order to boost the country's flagging economy, Congress created the EB-5 visa program. The program allows angel investors who invest a sufficient amount of funds in a U.S. business enterprise to have a pathway to permanent residence status. The program has been underutilized historically, and it saw a drop over the last two years in light of the novel coronavirus. Non-citizens with significant funds who are interested in investing in the United States and living here permanently may find little competition in obtaining an EB-5 visa right now, as long as they satisfy all of the appropriate prerequisites. Read on to learn about the EB-5 visa program, and call a savvy New York immigration lawyer for help with status adjustments, green cards, deportation defense, or other immigration status issues.
What is an EB-5 Visa?
The EB-5 visa is a special visa intended to encourage "foreign investment and economic growth." The EB-5 program, also known as the Immigrant Investor Program, is intended to allow foreign investors a pathway to immigration and permanent residence status. Qualifying individuals have a pathway to obtaining permanent residence, i.e., green card status.
To obtain an EB-5 visa, the applicant must commit to a certain level of investment in a new commercial enterprise in the United States. The investment must be associated with creating a minimum number of full-time jobs either directly or indirectly in the U.S.
EB-5, originally established in 1990, is a rare immigration program in that the number of applicants was historically far fewer than originally anticipated by Congress. Whereas most immigration programs are overloaded with applicants, the EB-5 did not provide much of a draw for many years. In 2011, the U. S. Citizenship and Immigration Services (USCIS) made several changes to encourage more applicants. The program hit capacity for the first time in 2014.
Over the last decade, use of the program has expanded greatly. There are 10,000 EB-5 visas available every year, and USCIS has been much more likely to hit or get close to issuing that number of visas since 2011. Fiscal years 2020 and 2021 saw a significant drop in the number of EB-5 visas, however, in light of the global pandemic and changes to the regulations issued under the Trump Administration.
Current EB-5 Qualifications for Angel Investors
In order to obtain a green card through the EB-5 program, an investor must meet certain requirements. The investor must invest either $500,000 in a Targeted Employment Area (TEA), meaning a rural or high-unemployment area of the country, or $1 million in a standard (non-TEA) area. The investment must also create 10 new full-time jobs, as defined by USCIS.
The investment funds must be generated from a lawful source, and the pathway for the funds must be legitimate and legal. USCIS now allows unsecured loans as an eligible source of funds. To qualify as a TEA, the area must either have an unemployment rate of at least 150% of the average or be outside a metropolitan standard area and in a city with fewer than 20,000 residents.
If an investor meets all requirements, then the EB-5 applicant as well as their spouse and minor (under age 21) children will be eligible to obtain permanent residence status.
Applying for an EB-5 visa can be complex, especially when relying on the lower threshold for a TEA investment. It's important to be able to establish that the target of the investment is in a qualifying area, that there is a paper trail for the source of funds to demonstrate legitimacy, and that the jobs established qualify under USCIS rules. USCIS thoroughly vets investment funds to curb money laundering. Supporting tax documentation is required to prove elements of the application. Expert due diligence is recommended.
If you are seeking asylum, protected status, citizenship or permanent residence status for yourself or a loved one, or if you are facing any issues with your immigration status, contact the experienced and professional Queens immigration lawyers at Gladstein & Messinger by calling 718-793-7800 or toll-free at 800-339-0535.