Deportations of Thousands of Central American Immigrants Delayed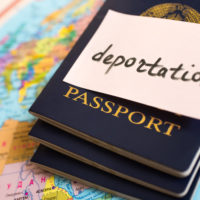 In a move receiving no publicity from the Obama administration itself, tens of thousands of undocumented Central American immigrants have been granted permission to remain in the United States for several more years. Administration officials cite budgetary concerns as the reason for the delays.
For several years, the Obama administration had declared its intention to expedite the deportation of thousands of Central American immigrants in response to the purported "surge" of 2014, wherein large numbers of undocumented immigrants arrived in the US after fleeing violent regimes in Central America. The administration asserted that it needed to send a strong message to those still living in these Central American countries that illegal entry into the US would not result in legal status here. Now, the administration has granted temporary legal status to some 56,000 Central American residents by delaying their deportation hearings by years. Among those 56,000 are nearly half of all those who entered the US from Central America as part of a family since 2014, as well as about 25% of all those who emigrated from Central America in the previous two years.
The Obama Administration asserts that the delayed deportations are attributable to budgetary concerns. After spending time in a detention facility, many individuals who were released back into the US failed to appear to be fitted for a GPS ankle bracelet, to be worn as they awaited hearing on their deportation. Since the government does not have to pay the $4 to $8-per-day cost of monitoring a GPS ankle bracelet for these individuals, they have decided to delay their cases by several years. Many immigration lawyers and judges cite the confusion regarding reporting requirements as the reason that many fail to appear as required. Ironically, those individuals who appeared as required are suddenly seeing their deportation hearings expedited, some without having the chance to find a lawyer to represent them since they believed their case would be postponed. Those who have been granted additional time as they await a hearing now have the chance to work with an experienced immigration attorney and build a case as to why they should be permitted to remain in the US.
If you are facing an immigration issue in New York, such as applying for a temporary visa, seeking permanent lawful resident status, or applying for citizenship, contact the knowledgeable and effective Queens immigration law attorneys at Gladstein & Messinger for a consultation, at 718-793-7800.