Couple Facing Federal Charges for Visa Fraud Reaching $20 Million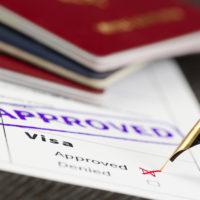 A couple who devised a scheme to fraudulently obtain H-1B visas for hundreds of Indian nationals has been indicted on federal charges. Raju Kosuri and Smriti Jharia, residents of Ashburn, Virginia, will be facing charges that could result in up to a 30-year prison sentence.
Kosuri and Jharia had been running the scheme since 2008 but have been operating on a large scale since 2011. According to the U.S. Department of Justice, Kosuri fabricated a litany of shell companies, secretly owned by Kosuri, which needed the Indian workers that he provided via a visa-for-sale scheme. Potential workers would pay their own visa application fees, which is itself illegal, and Kosuri would forge signatures of applicants on the application documents and generate falsified exhibits to the applications. Upon receiving a visa, Kosuri would fill nonexistent vacant positions at the data center he owned and operated. The workers are treated like hourly contractors rather than employees, which also violates federal law. The indictment alleges that Kosuri submitted over 800 fraudulent H-1B applications over the lifetime of the scheme.
Kosuri, Jharia, and several co-conspirators have also been indicted on charges of defrauding the Small Business Administration out of $150,000 in loan proceeds and five contract awards through fraudulent applications.
Visa fraud, particularly within the H-1B visa program, is likely not uncommon. In a 2008 study conducted by the U.S. Citizenship and Immigration Service (U.S.C.I.S.), the office selected 246 petitions randomly from among the thousands submitted for consideration in 2005 and 2006. The study revealed that just over 13% of these petitions were fraudulent, listing shell companies as the sponsoring organization, containing forged signatures, and including made-up locations as the corporate headquarters. Hopefully, this incident will lead the U.S.C.I.S. to take greater pains to weed out fraud, in light of the difficulty faced by those attempting to obtain an H-1B visa by going about the process honestly.
If you are attempting to apply for a visa, permanent residency, or U.S. citizenship, seek out experienced and knowledgeable legal help to offer yourself the best chance of success. Contact the Queens immigration and U.S. visa lawyers at Gladstein & Messinger for a consultation, at 718-793-7800.