City Rallies Behind Immigrant Community as Federal Immigration Enforcement Ramps Up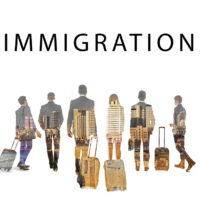 While federal agencies have shown little sympathy for the communities of immigrant people so critical to American society, government officials for both the City and State of New York are devising programs aimed at reducing the negative impact of new federal enforcement policies. A proposed program would offer a subsidy for the fees entailed in applying for US citizenship.
Arrests of undocumented persons rise sharply in 2017
Immigration enforcement in the New York area in the form of arrests has already gone up an enormous amount in 2017. According to a report published by Newsday, arrests of undocumented immigrants has increased by over 30% since January of 2017. Between January 20 and April 29, the New York branch of Immigration and Customs Enforcement arrested 687 undocumented persons. According to an ICE official, 75% of those arrests were of persons with serious criminal convictions. Undocumented persons may face additional difficulties, should President Trump's proposed budget pass. The budget includes substantial increases in funds dedicated to immigration enforcement, and cuts to tax credits for non-citizens.
Fund would subsidize US citizenship application fees
In response to the startling rise in arrests, the City of New York has taken a number of steps to reaffirm its commitment to its immigrant community. Recently, New York City Comptroller Scott Stringer has proposed the creation of a fund that would help applicants for US citizenship afford the required fees. The fund would use public and private monies to help families pay the federal application fee, allowing them instead to spend those funds on competent legal help or translation services necessary to complete the application process.
Stringer recently sent a letter to Mayor de Blasio's commissioner for immigrant affairs, Nisha Agarwal, in support of the fund. The letter was sent with the support of eighty local immigrant rights groups, and emphasized how critical it is to help undocumented persons obtain the protections offered by citizenship. The letter read in part, "With immigrant communities across the city at risk of being torn apart by federal immigration policies, we believe that helping more of our neighbors and friends become citizens can keep families and communities together, grow our economy, and make our city stronger."
If you're in need of skilled and dedicated legal help for your application for permanent residence or citizenship, contact the Queens offices of the immigration law firm Gladstein & Messinger for a consultation, at 718-793-7800.