Biden Administration Bars Immigration Enforcement in "Protected Areas"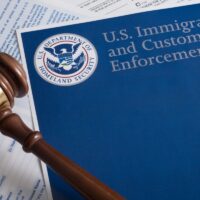 Historically, federal immigration officials have been willing to use any and all means to root out unlawful immigration. Many of their tactics were meant specifically to intimidate non-citizens and deter immigration. Immigration officers might, for example, conduct a raid on a school or a church, places where people feel secure, in order to remind undocumented immigrants that they should not feel safe anywhere. Thankfully, the current administration is taking a more constructive approach to immigration, understanding the complexity, nuance, and general humanity involved. Recently, the administration, led by President Joe Biden, issued new enforcement guidelines marking certain areas as off-limits for immigration enforcement. Continue reading for details about the administration's new guidance, and call a zealous New York immigration lawyer for help with deportation defense, green card, citizenship, visa, or other immigration status issues.
Schools, Hospitals, Places of Worship Off-Limits for Immigration Enforcement
On October 27, the federal administration issued a memo detailing new guidelines addressing when and where immigration enforcement officers may or may not conduct enforcement activities. The new guidelines offer some measure of peace of mind for undocumented immigrants who await legislation intended to offer additional pathways to citizenship that have been stalled in Congress to date.
According to the new guidelines, which go into effect immediately, immigration officers are told to refrain from engaging in enforcement actions in certain "protected areas." Immigration agents are not meant to make arrests, conduct searches, serve subpoenas, or carry out other enforcement activities in these areas. The policy applies to Immigration and Customs Enforcement (ICE) as well as Customers and Border Protection agents, all of whom are to be given updated training in light of the new guidelines.
Protected sites under the new guidelines include, among other places:
Hospitals, clinics, and other medical facilities
COVID-19 testing and vaccination centers
Schools
University campuses
Places of worship
Social services establishments such as domestic violence centers
Disaster and emergency relief centers
Places where civil ceremonies such as funerals or weddings are conducted
Sites where children typically gather, such as playgrounds or recreation centers
The guidelines are an expansion of similar guidelines issued under the Obama Administration, which also protected certain areas for enforcement but included fewer specifics. These are guidelines, however, rather than Congressionally-approved alterations to agency mandates, which means that the covered agencies are not forever limited. Under President Trump, the Obama-era limitations on immigration enforcement were largely ignored.
The new guidelines also carry certain specific limitations and exceptions. Immigration officials and others are free to act if there is a national security threat, an imminent risk of death or violence, or if failing to act would permit evidence material to a criminal case to be destroyed, for example.
Overall, however, the guidelines are a positive step for humane immigration enforcement. Absent urgent circumstances, individual agents must seek prior approval from the agency headquarters before taking any enforcement action in or near a protected area. Immigration agents are encouraged to avoid enforcement in these areas "to the fullest extent possible."
If you are seeking asylum, protected status, citizenship or permanent residence status for yourself or a loved one, or if you are facing any issues with your immigration status, contact the experienced and compassionate Queens immigration lawyers at Gladstein & Messinger at 718-793-7800 or toll-free at 800-339-0535.