What Is a 212(h) Waiver?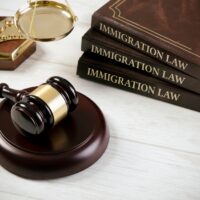 The United States sets a high bar for anyone seeking to immigrate, whether by obtaining a work visa, a student visa, asylum status, or some other route to lawful presence and if desired, eventual citizenship. One important requirement for most applicants for visas or citizenship is that the applicant has no criminal history. There are, however, options for legal admission, even for applicants with past criminal convictions. Below, we discuss a "212(h) waiver," an option available for individuals deemed inadmissible to the U.S. based on their criminal record.
Call a knowledgeable New York immigration lawyer with any questions about your visa or citizenship status.
Waiver for Criminal Grounds of Inadmissibility
212(h) waivers are used for individuals who are physically present in the United States but who have not been legally admitted with any status due to a prior criminal conviction. A 212(h) waiver can also be used to help a person with a green card keep their legal status despite a criminal conviction. 212(h) waivers may be available to applicants even if they have been convicted of any of the following crimes:
● Prostitution or solicitation
● A single offense of possession of up to 30 grams of marijuana
● Convictions for two or more offenses for which the aggregate sentence was five or more years
● Crimes involving moral turpitude (CIMP)
● Involvement in serious criminal activity where immunity from prosecution was asserted
Under normal circumstances, these convictions would be grounds for revocation or rejection of legal status. A 212(h) waiver allows a person to seek or retain their status provided they demonstrate that an exceptional circumstance warrants the waiver.
212(h) Waiver Grounds
There are a few grounds for obtaining a 212(h) waiver, including the following:
● 15-year waiver. If the activities for which the applicant is deemed inadmissible occurred more than 15 years ago, the applicant can show that they have been rehabilitated, and the applicant's admission would not be contrary to the national welfare, safety, or security of the US, the applicant may obtain a 212(h) waiver.
● Extreme hardship waiver. Applicants may get a waiver if (a) they demonstrate that denial of admission would cause extreme hardship to the applicant's spouse, parent, son, or daughter, who is a U.S. citizen or green card holder, and (b) the immigration judge exercises favorable discretion.
● Battered spouse waiver. If an applicant's spouse or parent is a U.S. citizen or has a green card and has subjected the applicant to extreme cruelty or battery, the applicant may file a Violence Against Women Act battered spouse or battered child petition. If the applicant is granted their VAWA petition but is deemed inadmissible due to criminal conduct, they can apply for a 212(h) waiver.
The 212(h) application process is lengthy and complex. Consult with a knowledgeable immigration lawyer to discuss your eligibility and to help you through the application process. Applicants with attorneys are much more likely to successfully procure a waiver.
Get Help from a Qualified New York Immigration Attorney
If you are seeking citizenship or permanent residence status for yourself or a loved one, contact the experienced and effective Queens immigration lawyers Gladstein & Messinger at 718-793-7800 or toll-free at 800-339-0535.